Near Southeast DC: Past News Items
Go to Full Blog Archive
---
Sunday Rearview Mirror: The 1977 Cinema Follies Fire
Jun 6, 2010 2:47 PM
(For someone who graduated from college with a degree in history, I have done a lousy job over the years of documenting the history of Near Southeast with anything approaching the zeal of my coverage of its present and future. I can offer no good excuses, but I'm going to begin to rectify this with a new series, "Sunday Rearview Mirror." I don't pretend to have the level of knowledge or experience of the pre-ballpark era as those who passed through Near Southeast during those years, but hopefully by taking the time every so often to highlight and describe events from the past I can help make sure that the new residents and workers who only recently heard of Near Southeast have some awareness of the people and events that came before them.)

It was in the 1970s that the western edge of Near Southeast became home to a new entertainment district for the city's gay residents, with its remoteness and lack of nearby residences allowing some measure of freedom for a culture that was only just beginning to step out of the closet. The area between South Capitol and First streets--with clubs like the Lost and Found, Club Baths II, Grand Central, Waaay off Broadway and Washington Square--became home not only to nightclubs with dancing and music but also but bathhouses, x-rated movie cinemas, and strip clubs. One of the new clubs was the Cinema Follies, which opened in 1975 at 37 L St., SE, showing x-rated gay films.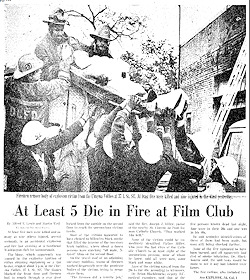 On Oct. 24, 1977, an explosion on the ground floor triggered by cleaning chemicals started a fire, with flames quickly consuming carpeting and wall hangings, blocking the exit for the patrons who had been in the 50-seat second floor theater. The fire never reached the second floor, but the smoke quickly became overpowering. However, a door that led to the roof was padlocked, and the windows had been replaced with cinderblocks. According to the Washington Post's account, "most of the victims were found in the orange-and-black theater seats [...] and may have been overcome by the smoke before they realized what was happening."
Nine people died as a result of the fire, making it the deadliest fire in Washington DC up to that time, a mark that stood until a fire at an unlicensed group home on Lamont Street, NW, killed 10 in April 1979. Identification of those who died at the Follies was hampered by the fact that, as the Post reported, "Many homosexuals do not carry identification when they visit homosexual gathering places," being "wary about the possibility of jeopardizing jobs or social position by having nonhomosexuals learn of their sexual orientation" in case their presence at club might be made public "through a police raid or other event."
(An interesting sidelight to the issue of identification was a column by Post ombudsman Charles Seib soon after the fire, questioning the Post's decision to not use the full names of some of those who died and no names at all of the injured. The column quoted then-Managing Editor Howard Simon as saying that the paper's main motivation was "compassion for the wives and children" [since some of the victims were married] but Seib went on to ask whether this approach had the effect of "underscoring the stigma of homosexuality, of shoving it back in the closet at a time when efforts are being made to bring it out and address it as a social fact?" This is an issue that papers still clearly struggle with,
even today
.)

William Oates, the manager of the club, was eventually fined $650 in 1979 for violating four building codes, though city officials stated that Oates "did everything possible" to try to comply with the laws, but poor city record keeping and poorly written codes made it difficult. (The city did work to strengthen its codes in the wake of the fire.) However, nearly eight years after the fire, in September of 1985, families of four of the victims were awarded more than $1.5 million in a civil suit against the club's owners.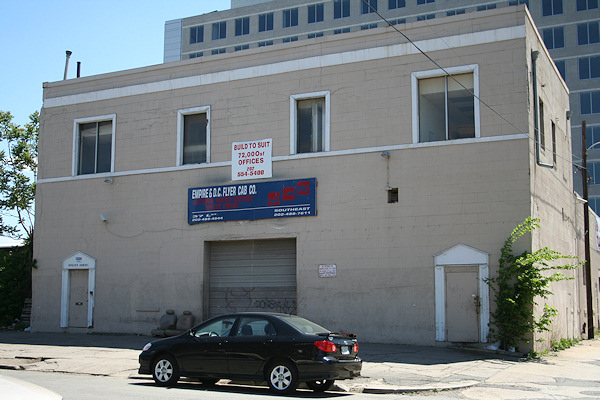 Within a year or the fire, Oates opened "The Follies" at its
new location
at 24 O St., SE, where it operated until it was
demolished with many other gay nightclubs
in May 2006 to make way for
Nationals Park
. Somewhat amazingly, the building where the Cinema Follies fire took place, which was not all that heavily damaged,
still stands today
, on L Street directly across from the under-construction
1015 Half office building
. It's currently home to a cab company.
I plan to write more Rear-View Mirror entries in the future about the neighborhood's past as a nightclub district, but until then,
this 2003 pamphlet
by the
Rainbow History Project
gives a great overview of the clubs that used to be such an integral part of Washington's gay culture. Hard to believe that, when the pamphlet was written, the authors had no idea how little time the existing clubs had left.
Road and Lane Closures For Work Above N Street SE
Jun 4, 2010 5:46 PM
Over the next few weeks, weather permitting, workers will be demolishing bridge spans that runs above N Street, SE (that little connector road between 12th Street and the Navy Yard gate on 11th). This is part of the
11th Street Bridges
project, and is the continuation of the demolition of the no-longer-needed ramps to and from RFK. (Note that the spans that still carry 11th Street Bridge traffic aren't coming down!) Here's the specifics on time-frames and lane closures:
""Sunday through Thursday from June 6 through July 1, weather permitting, contractors for the District of Columbia Department of Transportation (DDOT) will perform bridge demolition work above N Street SE requiring overnight closures of the street between the 12th Street SE and the gate of the Navy Yard on 11th Street SE. The closures will occur each night from 8 p.m. to 5 a.m. the next morning with a signed detour provided.
"Also during this timeframe, the following lane closures will be instituted for related bridge demolition activities:
"* The left lane will be closed on the ramp from Southeast/Southwest Freeway to I-295 South/Martin Luther King Jr. Avenue continuing across the outbound 11th Street bridge and ending prior to merge area with I-295.
"* The left lane will be closed across the inbound 11th Street bridge beginning on I-295 north near Howard Road and ending past the M Street/12th Street exit ramp.
"All of these closures may be subject to change due to weather or other unforeseen conditions."
Here's a zoom in
on the Google Maps satellite view if you need some visualization assistance. It's the first and third (from the left) of the four "spans" above N Street are the ones that go to and from RFK. I also wonder if this means that
the big embankment that runs along 11th Street
between M and N is coming down--I would think so, since it's now an unused stub.
Nats Lobbying Hard to Host NHL Winter Classic
Jun 3, 2010 10:52 PM
In an article from Friday's Post
about how hard Capitals owner Ted Leonsis has worked to get his team into the NHL Winter Classic, this fun tidbit about the machinations behind the expected arrival of the outdoor New Years Day game in DC (or Baltimore) in 2013 or 2014:
"Another advocate for a D.C. venue is Nationals President Stan Kasten, who confirmed his team is prepared to make a hard charge to put on the Winter Classic. That aggressive bid will be led by Mark Lerner, a minority owner of the Capitals whose family owns the Nationals. Kasten said the Nationals have already made a detailed presentation to the NHL, complete with schematics showing where the rink would be placed. Kasten also said officials from the league paid
Nationals Park
a visit earlier this year when Washington was being considered for the 2011 game.
"'Let's face it, Nationals Park is the premier venue in the most important city in the world,' Kasten said. 'I can't imagine it being anywhere but Nationals Park.'"
The article also quotes NHL league commissioner Gary Bettman, on being asked if the connection of Nationals owner Mark Lerner to the Capitals (he's a minority owner) helps the case for Nats Park: "It certainly doesn't hurt."
The article does say, though, that the NHL prefers football stadiums, since they can hold more fans. Nationals Park would hold about 42,000, while FedEx Field has nearly 92,000 seats for Redskins games.
WPArade! An Art Parade on Saturday
Jun 3, 2010 9:00 PM
A reminder that on Saturday (June 5) is "
WPArade! An Art Parade in the Capitol Riverfront
" (their exclamation point, not mine), presented by the Washington Project for the Arts. It's described as "an extravaganza of artists connecting with community to create a moving visual spectacle of art and culture" with "[a]rtists, performers, musicians, and visual arts organizations will come together in Washington's first Art Parade to display moving art, floats, placards, portable sculpture and street performance along Half Street SE." It starts at Half and M at noon, with a midblock stop for performances before culminating in a party alllllllllll the way down at the Bullpen at N Street, running until 3 pm. All portions are free and open to the public;
see a list of the artists here
.
Justin's Applying for Sidewalk Tables; Additional Info on the New Liquor Store (and the Little Red Building)
Jun 3, 2010 10:49 AM
The report from Wednesday night's ANC6D ABC Committee meeting:
* Justin's Cafe is seeking to add four tables, with umbrellas and four chairs each, on the sidewalk directly in front of the restaurant. They would be available the same hours as the restaurant itself, until 1 am Monday through Thursday, 2 am Friday and Saturday, and 10 pm Sunday. There were concerns from a commissioner or two about whether people might walk away from the outdoor seating area with alcoholic drinks, about the additional noise brought by 16 or so people outside, and about whether cigarette smoke from the tables would waft up and bother the Velocity units directly above. Justin Ross replied that a sign would be posted about alcohol only being consumed on the premises, and that smokeless ashtrays would be available for the tables (and that since people can't smoke inside the restaurant, there's already a lot of smoking going on outside on the sidewalk). Velocity's management had sent along a letter in full support of the plan.
The committee voted 4-0 in favor of recommending that the ANC support the application, and that vote should come at the ANC's June 14 meeting, if Justin's voluntary and community cooperation agreements are revised in time.
* The owners of Capitol Hill Wine and Spirits on Pennsylvania Avenue SE came to talk with the committee about their plans for
a new "upscale" liquor store
at 909 New Jersey Ave., SE, which they will be calling Harry's SE & SW. (For about nine years they ran the Harry's liquor store at Waterside Mall in SW, which closed about five years ago.)
They have signed a lease agreement to take the two retail spaces on the north side of the building, at the corner of New Jersey and I, and they will be knocking down the wall between them in order to end up with about 2,200 square feet of space. The hours would be 9 am to 9 pm Monday through Saturday (or possibly 10 pm on Fridays and Saturdays), and closed on Sunday. They would sell beer, wine, and liquor, as well as milk, sodas, juice, cheese, and other "quick stop" items, but would not sell sandwiches as had been mentioned on the meeting agenda. They hope to open in September or October.
Much of the discussion centered around whether they will try to get an exemption in order to allow sales of "singles," which is a very hot-button issue. The owners said that they want the exception so that they can sell "high end" Belgian beers, which come in single bottles, and have no intent to sell the cheaper singles that can attract a somewhat less desirable element. However, ANC 6D chairman Ron McBee said that he imagines it would be very difficult to get support from the full ANC for the exception, and that there would also be concerns about any attempts to amend the singles law that might make it look like the law was targeted toward one socioeconomic class and not another.
Also discussed was the possible impact of this new store on the long-held plans for a similar high-end liquor store at Second and L SE on the site of the "Little Red Building." The ABRA rules state that liquor stores can't open within 400 feet of each other, and these two would be more than 500 feet apart as the crow flies. But Mr. Park, the owner of the LRB, is clearly concerned about whether the neighborhood can support two very similar operations. He is moving forward with plans to demolish the LRB and put up a new structure, and is also looking at an October-ish opening date. (He said he'd send me the building plans soon.)
In the end, the committee voted 4-0 in favor of recommending that the ANC support Harry's license application. A voluntary agreement and a community cooperation agreement will now need to be hammered out, and those involved weren't sure if one could be ready by the June 14 ANC meeting, in which case it would probably come up at the July 12 one.
NCPC Gives Glowing Approval to Canal Park Design
Jun 2, 2010 1:20 PM

The National Capital Planning Commission has posted its "
staff recommendation
" on the final designs for
Canal Park
, and it's safe to say that they are pleased with what they've seen. They commended the city on its "work toward providing this much-needed public amenity that will undoubtedly support and strengthen the continued revitalization of the Near Southeast neighborhood." It also says that "the park will likely become a highly sought after place for visitors, workers, and residents of this burgeoning mixed use neighborhood" and that the city "has worked diligently to prepare an overall design that is simple, while still providing a wide range of activities and amenities." And, "staff appreciates that while the new park design is distinctive and will likely set a new standard for future parks in the District of Columbia, it does so by acknowledging and building upon the unique historical significance of the site and its surrounding neighborhood."
For those who haven't been following along (and the park has only been in the works for seven years or so, so you've probably saved yourself some grief), Canal Park will stretch from I to M streets SE along the two parts of Second Street. The southern block, across from the
US Department of Transportation
headquarters, will have a large plaza, a "significant water feature" that will transform into an ice skating rink in winter, and a large two-level pavilion that will be home to a cafe and observation area. The middle block has a rain garden, a children's play area, a small performance stage, and an open lawn. The northern block, the "most pastoral of the three," will have a large open lawn, and the slight grade of the block as it slopes upward toward I Street has allowed the designers to envision this as an informal amphitheater, for events like
summer movie nights
and whatnot. There is also a "linear rain garden" that runs along the eastern edge of the park's three blocks. (Note that K and L streets will still be open to traffic, though there will be well-marked crosswalks.)
The staff recommendation document is 18 pages, but if you have any interest in the plans for the park,
you need to read all of it
. Lots and lots of updated renderings, detailed explanations of the park's features and amenities (including its sustainable design), first peeks at the sculptures that will be installed, and how the park will work with its surroundings are all included.
Serious Canal Park groupies may also be interested in what the
Commission of Fine Arts had to say
about the designs when it reviewed them at their April 15 meeting (scroll down to section G). They approved the designs as well, though some CFA commissioners expressed a few concerns about the many plans for activities and "programming." The minutes characterize thoughts from commissioner Elizabeth Plater-Zyberk thusly, that the "park embodies the notion that people need a constant stream of entertainment, a concept related to retail marketing and Disney parks that has become part of our modern culture. She said that the proposal could be accepted within this context, but the commitment of the sponsoring organizations to care for it must be clear." (The park is owned by the city, but the Canal Park Development Association has been created to oversee the park, and the Capitol Riverfront BID will be handling much of the upkeep and scheduling.)
I haven't heard any recent updates on a construction schedule, so I'll just lean on my
last post on the subject
; it's expected that infrastructure work around the park will begin this summer, with construction on the park itself starting in the fall and lasting a year or so. Hopefully by then I can get my
Canal Park project page
updated with all the new details.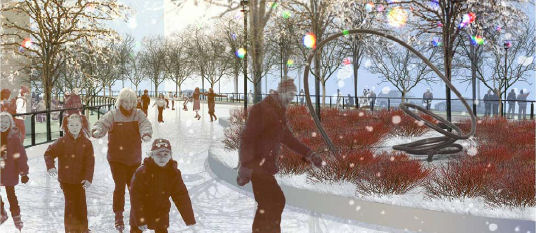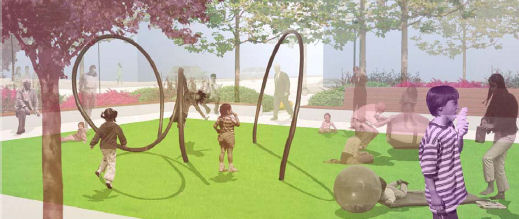 Hot New Recreation Spot: Lincoln Capper Kiddie Pool
Jun 2, 2010 10:54 AM
With many thanks to reader S. for doing all of the legwork on this, I'm passing along the news that neglected the three-foot deep pool on L Street SE between Fifth and Seventh (between Van Ness Elementary and the parking lot that was once
Old Capper Seniors
) has been renovated, and is now open as the
Lincoln Capper Children's Pool
. The
DC Parks and Recreation web site
has the hours, which are noon to 6 pm on Saturdays and Sundays until June 20, and then 11 am to 5 pm Mondays through Fridays from June 21 through August 20. It may not be as swinging as the scene at the
Capitol Skyline Pool
, but for parents looking to dunk their children (I mean, get their children some swim time), it's a nice addition to the neighborhood tableau.
Near Southeast Residents Demand a Grocery Store! (The More Things Change...)
Jun 1, 2010 8:49 PM
I'm just now coming across a Washington Post story entitled "Housing Area Pushing for Supermarket," which says that a group of residents "in a small triangle of Southeast Washington launched a 'supermarket project' yesterday to persuade a grocery chain to build a store in their neighborhood," with a planned petition drive looking to get 1,500 signatures.
But, of course, I'm yanking your chain, since this Post article is dated Dec. 16, 1965.
The group, the "Community Commitee Group," planned to visit the regional offices of Safeway, Giant, and Kroger to present the case that the residents of the area bounded by 8th, Virginia, M, and New Jersey had only two corner groceries, with the closest supermarket being at Seventh and G, SE, which was too far for the "aged who live in the Carrollsburg Dwellings project at Fourth and M." Also, because many of the residents in the area qualified for food stamps, they needed to be able to shop at a full supermarket, where the stamps would stretch farther.
The group "also hopes to interest a chain drug store and a combination dry cleaning-shoe repair shop to locate next to the proposed supermarket." Their suggested locations? "The west side of New Jersey Avenue between K and L Streets to replace some condemned buildings [
ahem
], the Washington Navy Yard parking lot on 2nd Street between M and I Streets [
ahem
], and the Lennox School annex at 4th and M Streets [
ahem
]."
In the meantime, while you're mourning the fact that no progress has been made in the brief 45 years since this article was published, you can think about another big development that Near Southeast missed out on: In the early 1990s the Federal Bureau of Prisons was looking for a location for a new 1,000-bed federal detention center, and one of the spots it considered was on the north side of I Street between South Capitol and New Jersey, the spot that's now home to the
Axiom and Jefferson
apartment buildings. And McDonald's. And Splash. (The other possible locations were in Northeast, but after battles with the National Capital Planning Commission and thanks to some pretty staunch opposition by city officials and residents, the Justice Department scrapped the plans in 1993.)
Ballpark Area Not Doing Well! (Except Where It Is)
Jun 1, 2010 10:21 AM
A story never starts off well with me when they place locations in Southwest instead of Southeast (it's called a map, reporters and editors, learn how to use one), but beyond that, today's Examiner story "
Ballpark Renaissance Striking Out in DC
" would seem to have a bit of a disconnect between the "ZOMG IT'S A DISASTER" premise and the facts and statements that are then presented in the story. But rather than my leading everyone through them, I think I'll leave it to you folks to take a look at the piece and see what sticks out to you.
New Photos. Lots of Them. (1015 Half, 11th Street Bridges, Yards Park, Etc.)
May 31, 2010 4:56 PM
There have been a lot of photos I've been needing to take recently, and the stars finally aligned today for me to go get them. (I sure could use some Gatorade about now, though.) Here's a run-through:

I made my first visit to the
11th Street Bridges
site, and now that all
63 river piles have been driven
, it's kind of an interesting tableau. You can see
my new photos
, as well as
background on the project
if you need some orientation on what exactly you're seeing. I also got some "final" before-and-after photos of the
view at 12th and M
now that the RFK ramps are mostly gone.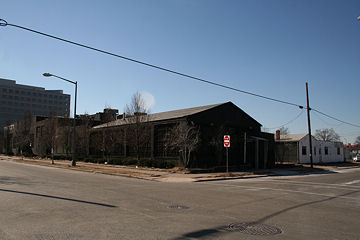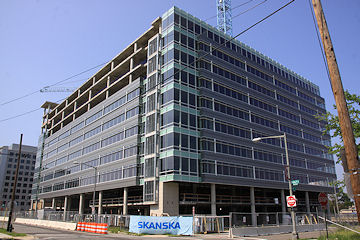 I also wandered over to
1015 Half Street
, now that I've been convinced that they're truly working on the building again. The
main project page
has an overview, but if you can't get enough before-and-afters, the
Expanded 1015 Photo Archive
shows even more angles (though you Nation fans might find them bittersweet).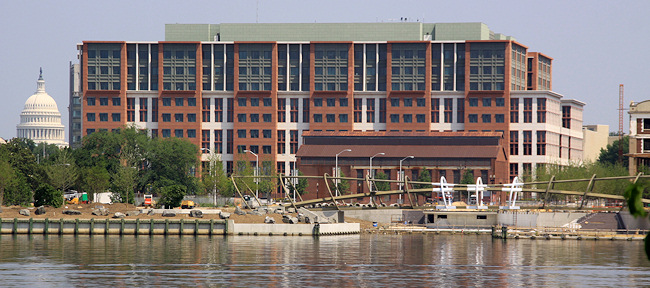 I know I just unleased a big pile of
Yards Park
photos
a few days ago
, but the big hole in the lineup has been a lack of shots from across the Anacostia River, at Poplar Point. So I got over there today, and while they aren't as exciting as you might imagine (though you can see that they're doing some priming or test painting on the pedestrian bridge), I've still added some to my
Yards Park page
, denoted with the

icon. I also finally got my official "after" photos from Poplar Point for
Diamond Teague Piers
, which you can see on the
project page
and
also here
. And, for the fun of it, you can also
"watch" the stadium go up from that spot
.
If you want to see all the "intersection" shots I took today (all 131 of them!),
they're here, on three pages
, and you can then click on the

icon to see the historical images. (I had a lot of spots that needed updating. Yeesh!)
Housing Authority Officially Requests Marines Stop Looking at Square 882 for New Barracks
May 28, 2010 12:58 AM

I've been chroncling
over the past few months the
Marine Corps' search
for a spot for a new barracks, which has focused on a number of sites in Near Southeast, including the block bounded by Fifth, Seventh, L and M just south of their newest barracks that used to be home to the old Capper Seniors apartment building. It's been clear in public meetings and various other rumblings that both city planning officials and the DC Housing Authority are
very much against
the Marines using this site, with
plans having been in place
for a number of years for this
now-empty/parking-lot block
to become home to both a 600,000-square-foot office building and a 189-unit mixed-income apartment building (shown above) as part of the
Capper/Carrollsburg redevelopment
.
Clearly feeling that the Marines haven't given up on the site as an option despite these plans, DCHA has now
sent the Marines a letter
officially requesting that the Corps "not continue to propose redevelopment options on the DCHA-owned Square 882 as a future site for its facility needs." The letter explains that DCHA has already secured funds to improve the infrastructure around the square, has spent "substantial predevelopment funds" on design and engineering drawings, and is anticipating beginning work on the residential portion of the site in October. (There's currently no timetable for the office portion.) Further, DCHA says it "recently received an invitation from HUD to submit an application for a FHA loan guarantee to support the planned residential construction on the site," and that this construction is expected to start "this winter."
Nothing in the letter is necessarily a surprise--I've written fairly extensively about
DCHA's plans
and about the zoning travails they went through before
getting a second-stage PUD approval
for Square 882 last year, which even included
many discussions and agreements
with both the Marines and the Navy about security requirements for the new buildings on this block. But clearly DCHA is hoping to be completely removed from the Marines' list of potential sites in the same way that the DC Public Schools (and parents) got Tyler Elementary removed from consideration. But it's also clear from the public workshops that the Marines very much like what Square 882 has to offer them in terms of space and proximity to the other USMC operations in the area.
The Marines are hoping to make a decision on a site by September. You can see
all the sites under consideration
and the various options on the "Community Integrated Master Plan" web site.
Yards Park Construction Progress Photos
May 25, 2010 7:34 PM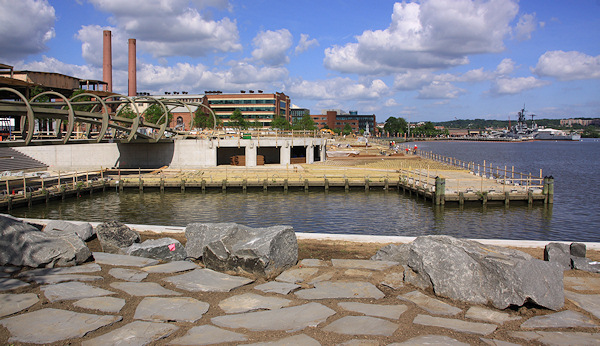 It was a beautiful afternoon for a walk along the Anacostia River, and I was lucky enough to take my stroll within the boundaries of the forthcoming
Park at the Yards
. The 5.8-acre park is scheduled for a "late summer" opening, and it's definitely taking shape, as you can see in my new
Park Construction Photo Gallery
. (And thanks also to Mother Nature for the fab backdrop; compare the shots from
my visit in March
to see why I tend to avoid cloudy days if at all possible.) The park, for those not keeping up, is being built by Forest City as part of
The Yards
, but is being funded by the city through PILOT monies and then will be turned over to the
Capitol Riverfront BID
for maintenance and "programming" once it's completed. It's that public money that has allowed the park's construction to go forward during a time when private funding is pretty hard to come by.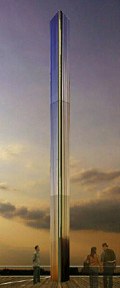 The biggest news is that the
60-foot light tower
on the water's edge at the foot of Third Street, which was originally not going to be installed until the park's second phase, is now going to arrive (by barge!) in July and be in place when the park is unveiled.
And, while the no-longer-salmon-tin-sided Lumber Storage Shed will be merely an open skeleton when the park opens, it sounds like maybe the possibilities of tenants are close enough that the Shed could be transformed into its glass-skinned retail pavilion new self sooner than might have been anticipated during the park's design phase.
(There also seems to be similar optimism about both the nearby
Foundry Lofts
and
Boilermaker Shops
projects getting on track. Forest City continues to work with HUD to get the financing squared away for the Lofts, and the Boilermaker Shops could get underway before the end of the year.)
Also in evidence in the
Photo Gallery
is the (ZOMG!!)
dog park.
which will be a fenced-in area on the far western edge of the park along the boundary with the 1905 WASA building.
So,
wander through
and read the captions for greater detail, and compare the photos to the park rendering at the top of the page to orient yourself and to understand what different sections will look like when completed.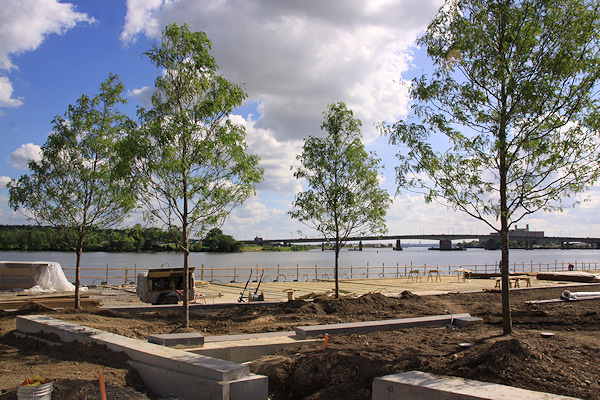 Liquor Store Coming to 909 New Jersey?
May 25, 2010 2:31 PM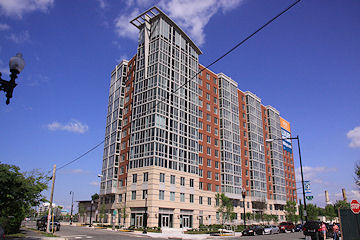 Some potential retail news might have just come onto the radar screen: on the agenda for ANC 6D's next ABC Committee meeting is a proposed Class A license at
909 New Jersey Avenue
for an entity called "Harry's SW & SE". They are proposing apparently to sell beer, wine, bread, milk, cheese, and sandwiches (and no "singles"), which is in line with a
Class A/liquor store license
. If anyone who lives at 909 has heard any rumors, or if anyone else has some scoop,
drop me a line
. I'm trying to find out more, and will update as I can. (Though the last time I started asking questions about a license application when one appeared on the ABC agenda was a few months ago for
55 M
, and it disappeared from the lineup almost as soon as I hit "send." So be forewarned.)
Also on the ABC agenda is a change to Justin's Cafe's license, with Justin now seeking to add a sidewalk cafe.
The meeting is on June 2 at 7 pm at King Greenleaf Recreation Center.
UPDATE:
There was a Harry's Liquor Store at 401 M St., SW back in the old Waterside Mall--I don't think it's reopened in the new building(?). I imagine this is the same owner.
UPDATE II: It is indeed the same owner as the old Waterside Mall store, and he also owns Capitol Hill Wine and Spirits in the 300 block of Pennsylvania Ave., SE.
Historic Blue Castle and Streetcars Photos (and a Rant)
May 25, 2010 12:25 PM
Back before it was painted all manner of shades of blue, the building on the northwest corner of Eighth and M known as the "Blue Castle" was a car barn for the DC streetcar system. Madison Marquette, now the owners of the building, have just posted on Facebook
a bunch of historic photos
showing both the building in its pre-blue days as well as lots of shots of the old DC trolleys and streetcars. Definitely worth checking out.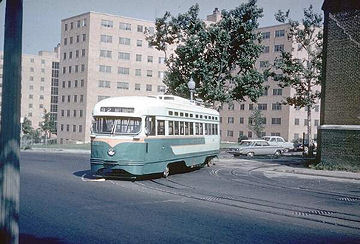 And this gives me an excuse to link to
my own Historic Photos page
, which includes some of the photos that Madison Marquette posted along with others of the neighborhood from about 1918 to 1992. (There's also my
Historic Maps page
, for plats showing the neighborhood for various years between 1903 and 1921, if you want more wayback goodness.)
There are a lot more cool historic Near Southeast images out there, but unfortunately some libraries and historical societies tend to be quite strict about reproducing photos from their archives (often requiring payment even for use of low-res images that already exist online), so rather than those photos getting seen by people who are truly interested, they languish in file cabinets or little-used online databases. It's a shame, because I could have a lot of fun with them, but the attendant bureaucracy has pretty well stifled my interest in pursuing them any farther or even linking to them. Plus I'm too honorable to just steal the thumbnails and post them anyway, which I could certainly do. (And you can be very sure that my photos will never end up with these levels of restrictions.)
At least the
great archive of historic photos
that DDOT had begun to populate a few years ago is still around (though not on their new site, you kind of have to go digging for it via Google). Hopefully they'll get around to adding more shots. I've got a scanner, DDOT, let me at them!
A Few Links of Note, Since It's Pretty Quiet
May 24, 2010 7:36 PM
I'm happy with my move to
Twitter
for much of my "little" linking, but here are a few (somewhat) recent items that still deserve the "hail of bullets" treatment on the blog, especially during a bit of a lull. (But I might have something somewhat cool tomorrow, if the weather holds.)
* From
City Paper's Housing Complex blog
, a report on some reimagining of the Anacostia Waterfront by middleschoolers as part of the National Building Museum's
CityVision
program. The
Navy Yard
, Poplar Point, and
Florida Rock
were given the treatment, with an underwater library envisioned at the latter, among other notions.
*
Urban Turf asked
a group of soothsayers to look ahead five years on which "unsung" DC neighborhoods would be attracting homebuyers five years from now. The "Southeast Waterfront" was one of the 'hoods (as once again people make clear that no name yet floated for the area is truly capturing the populace's fancy, which is why I stick with the REAL name ;-) ), and while it will take a while to be "fully realized," the writer reminds readers that Near Southeast has some pretty solid "bones": With "proximity to Capitol Hill, access to Metro and major roads,
Nationals Park
, a potential streetcar line, a
waterfront park
that I think will be one of the best in the city and of course the river[,] this neighborhood starts to make a lot of sense as a place to live."
*
SWill reports from just across the way
about the plans for hip, happenin' shindigs once again this summer at the Capitol Skyline Hotel. "The parties [...] have been named Liquid Lounge and will feature some of the best house music DJs from Washington, DC and beyond. The hotel and Nocturnal Vibe will host their inaugural event on Saturday, June 5th from 2 p.m. - 9 p.m., poolside at the architecturally iconic DC destination."
* With the DC season of Top Chef now having an announced premier date of June 16, it's been confirmed (
by DCist
) that Nationals Park was the site of one of the challenges (apparently on May 6, according to
this tweet
). I'm going to LOL if they make guest judge Eric Ripert chow down on nachos, half smokes,
two-pound pretzels
, or other ballpark haute cuisine.
* And, the subject of filming at Nationals Park reminded me to go see what the latest is on the Reese Witherspoon/Jack Nicholson/Paul Rudd/Owen Wilson/James L. Brooks movie
filmed at the park a year ago
. It's called
How Do You Know
, and
IMDB says
it has a release date of December 17. (Prime Oscar season!)
This Week's Events (Traffic, WASA, Cornhole)
May 24, 2010 2:40 PM
Yet another post about upcoming meetings that most of you probably don't have any interest in going to, you slackers:
* I've now received official notice from ANC 6D that the stadium
Traffic Operations and Parking Plan
meeting is indeed being held tomorrow (Tuesday, May 25) at 6:30 pm;
here's the flyer with the details
. This meeting was asked for after
the previous one was not particularly well attended
by the necessary government agencies.
* Alas, at pretty much the same time and just a few blocks away
is a Public Information Meeting
on the
14th Street Bridge Corridor Environmental Impact Statement
, from 6 to 8 pm at Westminstery Presbysterian Church, 400 I St., SW. This meeting's purpose is "to present preliminary traffic results and scope of the enivonrmental assessment for the [corridor] alternatives" and to answer questions and receive feedback.
* If you want to go to both, there's a
second version of the EIS meeting
on Thursday evening (May 27) in Arlington; but
that
conflicts with
WASA's public meeting
to get the public's comment on their
combined sewer overflow long-term control plan
and the
draft environmental assessment
. The meeting is at Watkins Elementary, 420 12th Street, SE (
see the flyer
).
* And, for that matter, both of those Thursday meetings conflict with the rescheduled
Cornhole Tournament
at the Bullpen that Nationals communications director Lisa Pagano is holding. This is part of her quest to become the Leukemia and Lymphoma Society's Woman of the Year award, and she is trying to raise $75,000 by June 12 (
more info here
and
here
). The party starts at 6 pm and the tournament itself at 7 pm. There will be live music and raffle items in addition to the tournament. Admission is $5 for the event and $20 for teams of two entering the tournament (with one free beer per player!). More info can be
found on Facebook
. (The original one was postponed because of inclement weather, which I know we all find astonishing given the gorgeous sunny days we've been having lately.)
* Then there's the usual lineup of
BID-sponsored events
(lunchtime concert on Wednesday and both the Outdoor Market and Front Run Club on Thursday).
Capitol Quarter Phase II Update
May 23, 2010 9:23 PM
I'm untethering myself from
Lost
long enough to pass along the news from
Capitol Quarter
that six houses were reserved in today's first offering of Phase 2 units, and apparently more will be released on Monday. (I don't know which, or anymore beyond that.) Now, back to my last precious moments with
Desmond
.
Weekend Doings at the Ballpark (and on Metro)
May 20, 2010 10:27 PM
In case you notice a somewhat higher level of activity around
Nationals Park
over the next few days, here's some possible reasons why:
* It's one of the pitstops on
Bike to Work Day
on Friday.
* It's the Battle of the Beltways weekend, with three games against the Baltimore Orioles.
* It's the team's fifth annual Food Drive, benefitting the
Capital Area Food Bank
. On Saturday and Sunday you can drop off non-perishable food items at the Center Field Gate from the time the gates open through the end of the Fourth Inning. (And I bet you don't even have to have tickets to the game to drop off donations!)
* If biking to the stadium on Friday for Bike to Work Day isn't enough, Sunday's game is
Bike to the Park Day
, with the team encouraging fans to ride to the game and use the free bike valet at First and N or one of the 250(!) bike racks around the ballpark.
11th Street Bridge River Piles Completed
May 20, 2010 4:49 PM
From DDOT: "The District Department of Transportation (DDOT) today announced the completion of the
11th Street Bridge Project
's first major construction milestone: all 63 river piles for the three new bridges have been driven in the Anacostia River. The 110-foot-long concrete piles that will form the core of the new bridges' foundations were pounded into the river bed since construction began in December. [...]
"The new bridges will continue to take shape in the months ahead as contractors form four piers for each bridge by building struts and caps on the piles then begin erecting structural steel for the bridge decks this fall. Additional work with landside pile driving is also underway to improve connections to the Anacostia Freeway (I-295/DC-295) and the Southeast-Southwest Freeway."
Marine Barracks Public Workshop on Saturday
May 19, 2010 6:57 PM
This Saturday (May 22) the Marines
are holding an open house-style public workshop
as part of their
continuing quest
to find a site for a new Marine Barracks. It will be from 10 am to 2 pm at the International Graduate University (formerly the Buchanan School) at 1325 D St., SE. I've written a lot about this, so will avoid summarizing--you can read my reports from the
April
and
March
workshops along with
other recent posts
). If you want to see the various locations that the Marines are zeroing in on,
their web site has a lot of detail
--and, judging from the comments sections on the various layout plans, the participants and fans of the Virginia Avenue Community Garden have joined together to to voice their opposition to any of the options that would either relocate or close down their garden. (There's also the families whose kids play sports voicing their opposition to any of the options that would take away the field at the
Seventh and Virginia Barracks site
. It's almost like there's no location that will please everyone!)
In fact, ANC 6B commissioner Norm Metzger, who is part of the Community Leadership Group that meets separately with the Marines, has
posted a few notes
from their May 13 meeting, and hits on the theme I just snarked about: "There remains a lack of clarity, despite a lot of words spoken at the meeting, on how an actual decision will be made. That may or may not happen at the September 'charette' (structure/aims tbd). Part of the problem is, as often happens, loose use of language. The convenient phrase 'the community' recurred throughout the meeting. But there is no THE COMMUNITY. Rather, at the table were the development community, the sports community, the retail community, the political community, etc. Satisfying all these communities, while meeting the Marines' needs, is and will continue to be a bear." Norm also posted some information on
possible options for the reuse of the existing "Building 20"
on the southeast corner of 8th and I.