Near Southeast DC: Past News Items
Barracks
Go to Full Blog Archive
---
32 Blog Posts Since 2003
Go to Page:
1
|
2
Relaxing of Security Requirements Could Mean Less Land Needed for New Marine Barracks
Aug 19, 2012 6:52 AM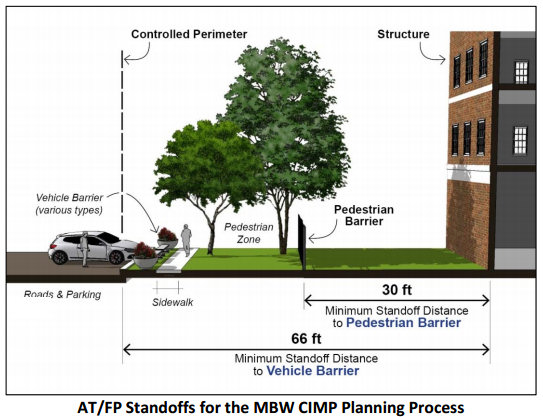 In a
newsletter released last week
, the Marine Corps announced that a
recent relaxation
of the Department of Defense's force protection requirements means that
the never-ending quest
for space for a new Marine Bachelor Enlisted Quarters (BEQ) can now be based on the need for a
66-foot standoff distance
between any new building and nearby parking/roads instead of the 82-foot standoff that the Marines had been trying to work with up to now.
This means less land would be needed for both the new BEQ and additional support facilities, though the total amount is dependent on what exactly the Marines end up building. A joint eight-story BEQ and support facilities would need approximately 1.6 acres of land, while separating the two needs could mean something closer to two acres if a five-story BEQ is built.
While this is important news from a neighborhood/urban design standpoint, it also impacts the amount of land the Marines may need to, ahem, "acquire" in order to build the BEQ. Early in the search process, it had been
hoped
that a public-private development partnership could be arranged so that the Marines would not have to take land by eminent domain, but it was
announced in April
that "federal land acquisition will be unavoidable as a result of recent unforeseen changes in policy and a less favorable funding outlook." And, because of the requirement that the new BEQ and support facilities be within 2,000 feet of the main post at 8th and I, various blocks south of the freeway on and near Lower Barracks Row have long been the sites the Marines have been eyeing as possibilities.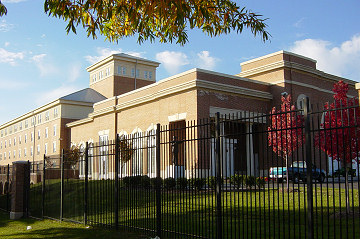 At that time, the Marines said that the EIS would evaluate the two blocks along the east side of 8th between Virginia and Potomac Avenues (Squares 929/930) along with the old Exxon site at 11th and M (Square 976). It was also said that the existing "
Annex site
" at 7th and Virginia was ruled out for the 100,000 square feet of housing but that it could be used for the needed 60,000 square feet of support space, but one does wonder whether the setback requirement change can return the Annex site back into the mix.
As also
announced back in April
, the Marines will be preparing an Environmental Impact Statement to both evaluate potential locations for the new BEQ complex as well as the reuse of the current Building 20 barracks on I Street SE. It had been hoped that the formal Notice of Intent for the EIS would have been happening about now, but the new newsletter says this will be delayed until winter. There will then be the attendant public meetings and whatnot.
If you're joining this story late, feel free to read my many posts from the past two years on the
evolving BEQ site search
, because I really can't bear to try to summarize it all AGAIN. You can also
browse the official project web site
for lots of materials from the process.
Stalled Search for New Marine Barracks Site Starting to Move Again; 'Federal Land Acquisition Will Be Unavoidable'
Apr 18, 2012 9:53 PM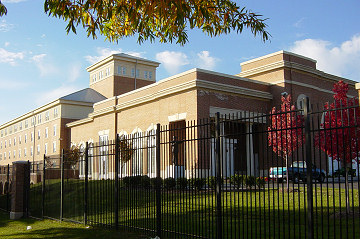 The Marine Corps will be getting the wheels moving again in what has been a
stalled quest
to build a new barracks and associated support space, putting the word out Wednesday via
the project web site
and a
newsletter
that it will be using the
National Environmental Policy Act
(NEPA) process "to continue the dialogue with the community of stakeholders" going forward. However, it's also now clear that "federal land acquisition will be unavoidable as a result of recent unforeseen changes in policy and a less favorable funding outlook."
In other words, the potential for a public-private development partnership as
discussed
in the
2010 series of public meetings
is falling by the wayside, and the federal government will have to own the land that the new barracks is built on. (Though the Marines say they "will continue to investigate opportunities to collaborate with the District of Columbia to minimize impacts to the local tax base and pursue all viable options[.]")
During 2010, the site selection process had
narrowed the slate down to
three potential locations: the site of the
Bachelor Enlisted Quarters/MBW Annex
at 7th and Virginia, the former Exxon site at 11th and M on Square 976, and "Squares 929/930," the two blocks bounded by 8th, Virginia, 9th, and Potomac controlled by multiple landowners, including a
joint venture
between Madison Marquette and ICP Partners.
Wednesday's newsletter
, posted by the
Washington Business Journal
, says that squares 929, 930, and 976 will be analyzed in the environmental impact statement, but that the Annex site is now ruled out for the required 100,000 square feet of housing, though it could be used for the needed 60,000 square feet of "support space."
However, given that there's also mention of analysis of "any additional sites that are identified within 2,000 feet of the MBW Main Post at 8th and I," one wonders if some of the sites ruled out in the original CIMP process might come back to the table, such as the old Capper Seniors site at 7th and M ("
Square 882
") that the Marines coveted so much given its location just to the south of the Annex, even though the
DC Housing Authority officially requested in May 2010
that the Marines stop looking at it. The Virginia Avenue Park would also fall within that 2,000-foot perimeter, but the
park's devotees mobilized pretty successfully
two years ago when the Marines initially eyed their turf,
as did the parents at Tyler Elementary
when its playing field was on the
original site list
.
The Marines do say they are still committed to many aspects of the original CIMP, including working "collaboratively with the community and stakeholders" (and the city), and also to the concept of "[r]educed security standoff distances for the urban environment."
Expect a formal announcement in "late summer" of the NEPA process.
If you haven't been following along (or weren't around in 2010), this site search has all come to pass because Building 20, the fortress just north of the freeway at 8th St. SE, suffers from "serious antiterrorism/force protection and quality of life deficiencies," with reuse of the site ruled out because of the expanded "standoff distances" now required in this War on Terror era. It's those new-era requirements, though, that have many in the area concerned about what sort of negative impacts a new barracks could have on its surroundings. Feel free to browse back through
my many posts on the process
for more details.
Madison Marquette to Launch Blue Castle Redevelopment Process
Oct 28, 2011 1:44 PM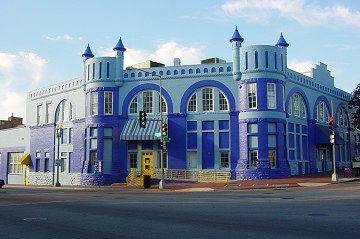 Today's
Washington Business Journal reports
(subscribers only, alas) that Madison Marquette, owners of the "Blue Castle" at 770 M Street SE and co-owners of a series of additional parcels across 8th, "will soon formally launch its Lower Barracks Row redevelopment process, hiring land use planners, wooing an anchor retailer for the historic car barn and tackling a range of hurdles that stand in the way."
It's that "range of hurdles" that the article focuses on--MM will need to figure out where will parking for the car barn be able to be placed and how much additional height can be added given not only historic and building height restrictions but the Navy Yard's concerns with having buildings that can look over their walls.
Then there's the looming
CSX Virginia Avenue Tunnel
construction, which could impact all of the landowners along Lower 8th given the disruptions that will no doubt ensue during the project. Mark Batterson of the National Community Church, which now owns
all of the properties along Virginia between 7th and 8th
and is looking to build a large coffee house/performance space and offices there, says in the article that their planning is very much tied up in CSX's timeline. "It doesn't make sense to do our project and then have them come through and rip everything up and make it difficult for us to even access our property."
Back in 2009 and 2010 there was a long
Lower 8th Street Vision Process
, which suggested allowing building heights of 65 to 85 feet on new structures 20 to 30 feet behind existing historic 8th Street structures. (The
process report
has a lot of drawings on how the 45-foot limit along 8th could co-exist with these potential greater heights further off the street.)
And, while not mentioned in the WBJ article, there's still the question of whether the Marines will end up
building a new barracks
in this area, as they have been hoping to do.
So, while the current Blue Castle leases are up in 2012, giving MM the opening to begin the process, the article makes clear that any makeover of Lower 8th will probably proceed slowly, at best.
Oh, and when it's all done, the Blue Castle probably won't be blue anymore:

(Rendering courtesy
Madison Marquette
. And maybe there's a hint in it of where they think the parking could go!)
Tuesday Tidbits: South Cap Meetings, Barracks, Sub Horn, More
Apr 26, 2011 10:42 AM
News and notes, some already
Tweeted
, some not:
* Don't forget the
two public meetings
on the
Final Environmental Impact Statement
for
South Capitol Street
. The first one is tonight (April 26) at Amidon-Bowen Elementary School at 4th and I, SW, from 6:30 to 8:30 pm. The second one is Thursday (April 28), at Savoy Elementary School, 2400 Shannon Place, SE, also from 6:30 to 8:30 pm. My entry
from a few days ago
gives the rundown on what changes they are looking at to transform South Capitol Street into a "grand boulevard" rather than a commuter speedway.
* ANC 6B commissioner Norm Metzger
passes along an update
from fellow 6B'er Kirsten Oldenberg on the status of the Marines' search for a
new barracks site
. A quote: "Now in progress are Installation Master Planning and Support Studies and a Financial Feasibility Analysis. We were only given a brief outline of this work, which will not be made public. A briefing on this 'conceptual' material will be given to the Commandant of the Marine Corps sometime in late May (perhaps). Then once he makes whatever decisions are necessary, work will proceed on putting together the guts of an RFP. This information has to go to various 'stakeholders' and ultimately Congress before the RFP can be finalized and released. One of the developers at the meeting today tried to pin officials down regarding timelines but it proved difficult to do. Bottom line, if all goes smoothly (which is doubtful), a site and developer could be chosen by Fall 2012. (Don't bet on it.)"
* Dan Steinberg writes at his DCSportsBog today about how the
Nats went from fireworks to a submarine horn
: "A few months ago, when people inside the organization began considering a move away from fireworks, they began researching naval horn options and even went to the
Navy Yard
to check out alternatives. Their advisers at the Yard advised they go with the sub horn, both for the sound and for the way that sound would carry. The Navy folks also thought the three-blast signal would be appropriate. So the horn was taken to
Nats Park
and hooked up to a special mic in the press box, where members of the marketing department can fire away after home runs and wins." Nats COO Andy Feffer says that the distinctive sound should make people immediately think "Nationals Park": "'The military is already part of game presentation and the Navy Yard is right next door; not only is it unique and distinctive, but it fit. It fit with our goals, and it fits with what Washington is. It's ours. Someone else can't copy it and say we're gonna do that too. It's Washington's.'"
* In a
subscrbers-only piece
in last week's Washington Business Journal, the story of Red Hot & Blue's departure from Nationals Park after the inaugural 2008 season gets a bit, ahem, spicier. Five months into that first season, the BBQ outlet told the Nats it was no longer interested in being at the ballpark. "Hold it, says the team, Red, Hot & Blue was still on the hook for $235,000 in regular payments until the end of the 2009 season, still yet to be paid, according to a breach of contract suit that was filed in March in D.C. Superior Court."
* Honda put out
a photo gallery
of the new 2012 Honda Civic, which includes a number of shots taken at the
Yards Park
, as well as Anacostia Park and other DC locations. (You have to wander through a bit to find them, but they are pretty neat to see.)
More Property Moves on Lower 8th; The Visioning?
Feb 10, 2011 3:25 PM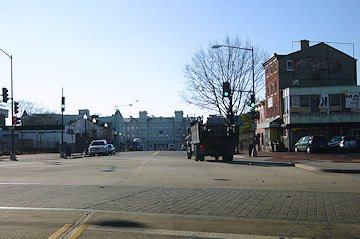 In my post about the
Bier Garden plans
for the northeast corner of 8th and L, SE, I promised a couple of extra tidbits about Lower 8th Street. To wit:
* Rumors abound that the
National Community Church
has acquired the auto repair garage at the
corner of 7th and K/Virginia, SE
, but despite someone saying otherwise at Tuesday's ANC 6B meeting, I'm told that no deal has been completed as yet. But even that at least confirms my not-terribly-hard-to-guess suspicions that NCC would be eyeing that lot for their new coffeehouse/performance space/offices, since they now own the land to both the
east
and
south
of the site. The garage's lot is 5,300 square feet, and was assessed in 2010 for just under $1.5 million.
*
Madison Marquette
, the developer who owns the Blue Castle at
770 M St., SE
and is also now a partner in the redevelopment of the Southwest Waterfront, is entering into a joint venture with the ICP Group, owner of the gray building (with Quizno's) at 8th and Potomac and
other Square 929 properties
that have been suffering from extended financing troubles.
WBJ reported on this in late January
, noting that those familiar with the deal "say Madison and its 'fairly deep pockets' will take over as lead developer for all the parcels." This also presumably gives Madison access to ICP's properties on Square 929, just across 8th Street from the NCC/Bier Garden block and to the north of the Quizno's block.
Squares 929 and 930 have been the subject of a lot of discussion as one of the sites that the Marines might be looking at as a location for their
new barracks
, because a development team could submit a proposal for a public/private partnership on that site if they controlled all properties on those two blocks. (This assumes the Marines do decide to go the public/private route; they could instead build additional barracks space on their existing land at 7th and L or manage to acquire some other government-owned site, such as the
old Capper Seniors/Square 882
site, which is owned by DCHA but which seems to be stalled in its attempts to get funding for the mixed-income apartment project on the north side of the block.) There's also the
Navy's potential plans
to expand outside their walls, which could include some of the close-by lots along 8th or maybe the old Exxon site at 11th and M.
In fact, in an e-mail to me last month, ICP President Leon Kafele referenced these possibilities by saying that the joint venture with Madison Marquette will "position [ICP's] assets to better respond to the Marines Corps and Navy Yard supply and demand for a BEQ, retail, and office space on or around lower 8th Street Barracks Row." And Madison has mentioned in public meetings that the Blue Castle could become home to some of the "shared uses" that the Marines are hoping to have be part of any new barracks venture.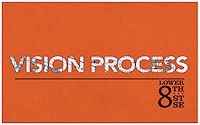 So, with NCC and the Bier Garden making moves on Square 906, Madison Marquette increasing its presence by making deals on Squares 929 and 930, and the Navy and Marines in the mix as well, does this mean that Lower 8th is starting to perk up? And, how will any new projects tie in with the
Lower 8th Street Vision Report
developed by the Capitol Riverfront BID along with all manner of representatives of Barracks Row, the Navy and Marines, business owners, and local residents?
I haven't written much about the whole vision thing, especially once the discussion of the Marines' land needs began to focus south of the freeway and it became clear that until they decide what they're doing about their barracks, any real discussion of what Lower 8th may look like in the future is very much up in the air.
That said, the vision report has mostly general recommendations that aren't exactly controversial: "Encourage a Mix of Uses," "Historic Preservation is a Must," improve the underpass to encourage pedestrians to come down from north of the freeway, address parking/circulation issues, and others.
But there is one concrete suggestion in the report: increasing height and density limits on some of these squares. The current 45-foot limit on 8th would be maintained for new structures, but greater heights (65 to 85 feet) could then allowed 20 to 30 feet behind existing historic 8th Street structures.
You can see on page 17 of the
report
some drawings of what the Bier Garden corner at 8th and L would look like with a 45-foot building on the site, and there are other drawings depicting height changes on the following pages, including allowing the less-historic western side of the Blue Castle to be built up higher.
The Bier Garden's one-story-plus-roof-deck
design
would seem to be not exactly what the visioners envisioned, but the developer has said he anticipates it to be a temporary structure (though that's not a guarantee). There's been no public opposition to the Bier Garden from the BID or Barracks Row Main Street--but no letters of support, either.
It will be interesting to see what the National Community Church comes up with for their design, and whether it'll try to take advantage of the desire for larger building heights set out in the vision document, if that idea ends up being embraced by the city.
And, there's still the Marines' decision to look for, which could be the biggest driver of all for redefining Lower 8th.
Upcoming Calendar of Events (Through Dec. 17)
Dec 6, 2010 10:46 AM
This is a painful post for me to write. (No, seriously--I hurt my left thumb last week, and typing doesn't help.) But I will power through to bring you news of upcoming events, all while wondering why Decembers are always so busy with public meetings--because it's not like we don't we have enough to do already....
ADD:
Oops. Tonight (Dec. 6) is the 4th Annual
Livable Walkable Community Awards
, at Arena Stage at 6:30 pm.
* Tuesday (Dec. 7) is the second
Marine Barracks site search
public forum, in Eastern Market's North Hall. I can't find the agenda for it, but the CIMP web site describes it thusly: "Session 2 will begin with at 5:00 pm with an open house where information will be provided in displays, and subject matter experts will be present to discuss various aspects of the CIMP with a facilitated discussion to authenticate community development objectives to begin at 7:00 PM." You can see the
draft community objectives
handed out at last week's meeting, and read
my summary of that session
, as well as the
scads of posts
through the past year of this process.
* Wednesday (Dec. 8) is the neighborhood meeting with DC Public Schools interim chancellor Kaya Henderson on the movement to reopen Van Ness Elementary at 5th and M, SE. The meeting is at 6 pm (note the time change) at the Courtyard by Marriott at New Jersey and L, and while no decision on reopening the school will be announced, DCPS will be talking about the preliminary findings from the survey they did this fall about whether there would be enough students to justify reopening the school. Read my
previous posts
for details.
* On Thursday (Dec. 9) the ANC 6B ABC Committee will
meet at 7 pm
at the Southeast Neighborhood Library at 403 7th St., SE, and it will be taking up the new liquor license application for the
Bavarian Beer Garden
at 8th and L, SE. It's looking to be a 99-seat tavern, with an additional 200 outdoor seats in summer, and would operate from 11 am to 2 am Sunday through Thursday and 11 am to 3 am on Fridays and Saturdays. There's also apparently the possibility of live entertainment. The application will also be taken up by the full ANC at its
regular meeting
on Dec. 14 at 7 pm at 535 8th St., SE.
* Monday (Dec. 13) is ANC 6D's monthly meeting--the
agenda
should be out later this week.
* Tuesday, Dec. 14 is the
BID
's Annual Meeting, at 11:30 am at 100 M St., SE. There will be a keynote address by George Hawkins, general manager of DC Water, plus the BID will release its 2010 Annual Report and State of the Capitol Riverfront.
* The BID also launches its Holiday Market on the 14th, running daily through the 18th on the sidewalk outside of 1100 New Jersey Ave., SE, across from the Navy Yard Metro station. "Shop the market for wool sweaters and mittens, homemade soaps, jewelry, antique maps, wreaths and holiday greenery, paintings, and much more!"
See the flyer
for more details, or the latest
BID newsletter
.
* Also on the 14th is the aforementioned
ANC 6B monthly meeting
, which includes a report by Michael Stevens of the BID on the Lower 8th Street Visioning Process report that's being submitted to the Office of Planning. (This will also be presented to the ANC's Planning and Zoning Committee on Dec. 7 at 7 pm at 535 8th St., SE.)
* Finally, on Dec. 17, the James L. Brooks movie "
How Do You Know
" opens--this is the one that was filmed at
Nationals Park
(and all around DC) back in 2009, and stars Reese Witherspoon, Owen Wilson, Paul Rudd, and Jack Nicholson.
Ow.
Documents and a Few Notes from Barracks Forum
Dec 2, 2010 1:09 PM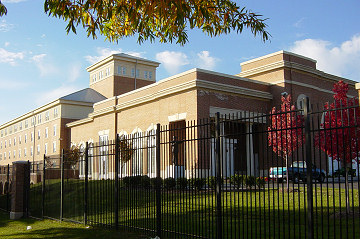 With the selection of a location for a new Marine Barracks more than a year away, there wasn't much big news coming out of Monday's public forum, at least not in terms of my focus, the area south of the freeway. (There were lots of discussions about the disposition of the Building 20, the barracks building at 8th and Virginia the Marines are trying to get out of--I'll be leaving the blogging about that part of the process to Norm Metzger, who has
posted some thoughts from Monday's meeting
.)
The
handouts, displays, and presentation slides
are now posted on the CIMP web site for your perusal. And it must be said that the feel of this meeting was more collegial and less antagonistic than some of the previous ones have been--getting Virginia Avenue Park
out of the mix
seems to have dialed down the temperature somewhat, though it's clear that both sides (the Marines and the community) are still cautious and not completely at ease in working with their counterparts.
At this point, there's much more focus on the process of it all rather than any specific outcomes--how the RFP will be written and what requirements it will have for developers, whether there will be a community representative on the selection committee (doubtful), and the like. Writing about process isn't really my cup of tea--I just want to know about what comes out at the other end! That said, If I had to come up with a few bullet points that were of interest or sounded new, here's what I'd highlight:
* The approach to finding a new site really has changed from when this started a year ago--originally, the Marines were only looking at public property (Virginia Avenue Park, Tyler Elementary, Square 882, the
annex
at 7th and Virginia, and inside the Navy Yard), but now there's the Square 929/930 option on the east side of 8th Street as well as the "Exxon" site at 11th and M. That changes how the process moves forward though, since there will now need to be special federal legislation to allow for a public-private venture. Doing this, though, means that any private lands that end up being used for the new barracks will stay on the DC tax rolls, since a developer will own the land and lease space to the Marines. It also pushes the timeline for the choice of a developer into 2012, with construction at least a year after the decision gets made. There will also have to be a
NEPA process
.
* The Marine Institute is "being
BRAC
'ed" out of the Navy Yard, and apparently will be moving to Building 20, taking up 25 percent of the new building (the maximum amount the Marines can occupy and have the building not need the security-required deep setbacks from the street). David Perry of Barracks Row Main Street called this news "a good thing." There will be lots of ensuing discussion about how the remaining 75 percent of that building/site should be structured. (North of the freeway! Outside of my boundaries!)
* It's been determined through the antiterrorism/force protection guidance that there can be underground parking at a new barracks, but that the parking control gate would need to be 82 feet away from the barracks.
* The US Department of Transportation expressed its interest in sharing a child care facility with the new barracks, since USDOT moved 6,000 employees to Near Southeast
in 2007
without any sort of day care offerings.
* The DC Housing Authority seems open ("let's have a dialogue," David Cortiella said) to talking about the
community center
site at 5th and K, which the Marines would probably want to gobble up if they decided to build the new barracks on the annex site. A community center would then be part of any shared-use facilities built. But DCHA has some timing issues that would need to be ironed out, the biggest being that they are required by the Zoning Commission to file building permits no later than July of next year.
* Michael Stevens of the Capitol Riverfront BID talked about how the BID wants to see the RFP laid out, including urban design guidelines that would need to be adhered to: no blank walls, first-floor retail uses, no major surface parking, no loss of parks, no street closures (though he acknowledged that one might be tough), and preservation of existing historic buildings; using these guidelines on the 8th and 11th Street sites would be a big boon to the efforts to revitalize lower 8th Street (which David Perry of BRMS also talked about). He also mentioned making sure no land goes off the tax rolls as an important issue.
* The Barracks' commanding officer,
Col. Paul D. Montanes
, put particular emphasis on his desire to integrate the barracks with the community, specifically mentioning the Navy Yard's brick wall as something he wants to avoid. He called this process a chance to build something special, not "an eyesore or a prison," and said that he considers the Marines at the barracks to be "ambassadors," and he wants them to be part of the community.
There was a lot more (maybe I should scan my illegible notes and post them!), but those were the big items; you can look through
the materials
if you want to know more. (Never use me as a stand-in if this is a topic you're really interested in--go to the forums!) At the end of the meeting they handed out a draft
Community Development Objectives document
, which will be the topic of discussion at the next forum, on Dec. 7 at Eastern Market's North Hall from 7 to 9 pm (preceded by another open house from 5 to 7 pm). If you want to submit your comments to the Marines about any aspect of the process, you can do so
online
. (If you're just checking in, here's
my previous posts
on the search so far.)
UPDATE:
City Paper was there, too, and has
a more general summary
, for people who maybe haven't been following along.
Reminder: Barracks Site Search Public Meeting Tuesday
Nov 29, 2010 3:40 PM
Just a reminder that the first of two public meetings to update the public on the status of the search for a new Marine Barracks location is tomorrow night (Tuesday, Nov. 30), at Eastern Market's North Hall (7th and North Carolina, SE). It will begin with an open house at 5 pm, with informational displays and "experts" on hand to discuss the various aspects of the Community Integrated Master Plan (CIMP), aka the site search. Then, at 6:30 pm, "speakers representing the community of stakeholders will present their viewpoints, [...] followed by a facilitated discussion of community development involving all participants."
Here's
the agenda
, and the
CIMP web site
has plenty of other informational materials including a recent
Process Update
(which
I wrote about last week
), in which it's stated that "the Marine Corps has not settled on any specific site or concept" (despite rumors to the contrary), and that the concerns of the fans of the Virginia Avenue Park "have been heard loud and clear and addressed accordingly."
My
previous entry
also talks about the
CLG Status Report handout
(posted by Norm Metzger), which includes some "Art of the Do-Able" conceptual graphics (emphasis on
conceptual
) that show how either the 11th and M "Exxon" site or the 8th Street "Square 929/930" site could be developed in ways that would not touch the Virginia Avenue Park. There's also a similar graphic showing how the presence at the
current BEQ site
along Virginia east of 5th could be expanded without losing the soccer field, which would requiring the shifting of the planned
Capper community center
site.
If the comment threads on my posts anytime I mention the word "Marines" are any indication, it should be a festive gathering.
Marine Barracks Site Search Update (Such as it Is)
Nov 19, 2010 3:15 PM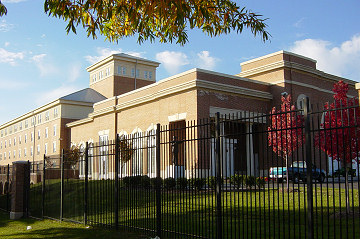 ANC 6B03 commissioner Norm Metzger
has a report
on yesterday's Community Leadership Group meeting on the search for a new Marine Barracks site. (I'm sorry, I just can't bring myself to call it the
CIMP
process on first reference.) My short version: there's no news on a site selection, and it appears that any RFP to build a new barracks is probably at least a year away, and even that date could be derailed if any sort of federal legislative action is needed to allow the sort of public-private development partnership that the Marines seem to be looking for. Norm's
description
of the meeting as being an "odd mix of frustration, clearly expressed community anger, and clarity" seems to be a good summary of where things stand from the group's point of view.
Norm also posted the
CLG Status Report handout
, which I think will be of most interest to residents for its "The Art of the Do-Able" conceptual graphics (emphasis on
conceptual
) showing how either the 11th and M "Exxon" site or the 8th Street "Square 929/930" site could be developed in ways that would not touch the Virginia Avenue Park. There's also a similar graphic showing how the presence at the
current BEQ site
along Virginia east of 5th could be expanded without losing the soccer field, which would requiring the shifting of the planned
Capper community center
site. (On this last one, I'll note that it looks like what is marked as M Street on the renderings is actually L Street, and the second graphic is showing a northeast view from 5th rather than the northwest as marked.)
Finally, there is this
statement from the CIMP folks
that seeks to address what it calls "some misperceptions circulating about the future of Marine Barracks Washington and the local community," centering mainly the idea among some residents that a site has already been chosen along with the rumors about what may or may not happen to Virginia Avenue Park. "It is very important that the Virginia Avenue Community Gardener group knows that their concerns have been heard loud and clear and addressed accordingly," the statement says, going on to say that "informal site design concepts strongly suggest that there is potential for options under which the Bachelor Enlisted Quarters Complex could be developed, without impacting any portion of the Virginia Avenue Park and gardens."
There are two meetings scheduled to update the public on the process, on Nov. 30 and Dec. 7 from 5 to 9 pm at Eastern Market's North Hall. More information on the entire process is available at the
CIMP web site
, or you can
slog through my pile of posts
on it all over the past year.
Barracks Row Board Endorses Marine Barracks Option for 8th/9th Streets, Park Fans Upset
Nov 4, 2010 4:36 PM
I'm trying to conserve energy on all things having to do with the
Marines' search for a new barracks
until some decisions actually get made, so today I'm just pointing you toward a post at
The Hill is Home
describing how the
Barracks Row Main Street
board passed a resolution endorsing the two blocks between 8th and 9th south of the freeway ("
929-930
") as their preferred site for the new barracks--and how that endorsement has riled up the fans of the Virginia Avenue Park and the community garden hosted there, who see BRMS's endorsement of the site as endorsing the "bulldozing" of the park.
The BRMS's executive director
has quickly denied
this, saying that the submitted proposal for 929-930 "replaces, at a nearly 2-to-1 ratio, the square footage lost as additional green space on other portions of the site," but the Save the Virginia Avenue Park Committee is, shall we say, skeptical and displeased, as you can see in the
THIH's blog post
and its
comments thread
. Controversy is a-swirling!
For a bit more background, you can also read
my recent entry
about the meeting where the unsolicited development plan for the 929-930 site recently submitted to the Marines by two landowners on those blocks was first mentioned. There was also discussion at that meeting about how any developer looking to work with the Marines on the Barracks project will need to demonstrate that they have control of all portions of the site they're proposing, which would be a dicey propostion if the 929-930 proposal includes any chunk of the park, since the National Park Service (which controls the park) won't state its views on the Marines taking part of the park until a NEPA process is completed. Unless the Marines convince Congress to pass "special legislation,"
according to Norm Metzger
. My
previous posts
on the search process give additional background, if you're itching for more information.
But it's best to remember at this point that there are still no announced decisions on where the Marines may go. There are
public forums scheduled
for Nov. 30 and Dec. 7 to update the community on the process.
Upcoming Marine Barracks Meeting Scheduled; CSX Public Scoping Meeting Postponed
Oct 12, 2010 8:40 AM
* The Marines have officially scheduled their "public forum" on their search for a new barracks location (officially dubbed the easy-to-remember
Community Integrated Master Plan
[CIMP] process) for Tuesday, Nov. 30, starting with an open house at 5 pm, followed by "speakers representing the community of stakeholders" who will "present their viewpoints," followed by a discussion period. It will be held in the North Hall of Eastern Market, at 7th and North Carolina, SE.
Pre-Weekend Cleaning Off of the Messy Virtual Desk
Oct 1, 2010 11:50 AM
Here's a bunch of little items that aren't ridiculously newsworthy, but that might be of interest. Since it's Friday and many of you actually have lives, I suggest reading a few at a time, and keep coming back over the weekend until you get through all of them. Some I've already passed along via
Twitter
(which you can also follow by being a
Facebook Fan of JDLand
), but some are surprisingly fresh. Here goes:
Top items:
* The process that will beget the new Southwest Waterfront is now underway, and SWill at Southwest: The Fabulous Blog With the Funny Name (did I get that right?) reports on
this week's public meeting
by the developers. Current plans call for 560 residential units, three hotels totalling 600 rooms, 840,000 square feet of office, 335,000 square feet of ground floor retail, some sort of music hall / museum / maritime education offering, 2,500 underground parking spaces in five garages, and 400-500 marina slips, with 60 percent of the site area being public space.
* Back before
1015 Half Street
was a slow-to-finish office building, it was an old industrial building that in 1995 became the Capitol Ballroom and then eventually the Nation nightclub. But from its construction in 1931 until it was sold at auction in 1992, the southwest corner of Half and K was home to the J.E. Hurley Machine and Boiler Works company. And thanks to the
Kinorama Flickr stream
that took the Twitterverse by storm this week, here's
a shot of the Hurley building
, undated but probably in the early 1990s. The outlines of the
more-familiar Nation building
are clearly visible.
* Pastor Mark Batterson,
writing about
the National Community Church's
purchase of the Miles Glass
site at 8th and Virginia, says that they are looking at some of the adjacent properties as well. "Our current lot serves our current purposes, but when we think in twenty year terms the additional lots would give us more upside potential."
Calendar items:
* On Friday, Oct. 8, the
Susan G. Komen 3-Day Race for the Cure
will be holding its opening ceremonies at
Nationals Park
. It's not just for participants, and friends and family are also being encouraged to attend. Walkers will start arriving around 6 am, with the opening ceremony beginning (with "community stretching" at 7 am). Afterward, the participants will begin their 60-mile walk (though I can't find a map to figure out their route). More information about the opening ceremonies and race
here
.
* Mayor-in-Effect Vince Gray is having
a series of town halls during October
, with the Ward 6 one scheduled for Oct. 27 at 8:30 pm at Eastern High School, 1700 East Capitol St. NE.
Tidbits:
* Because I'm worried that the Marines' hunt for a new barracks site isn't engendering enough conversation around here, I'll point people to
Norm Metzger's report
on last week's Community Leadership Group meeting that I wrote about
here
.
* The Examiner did
a Three-Minute Interview
with Sam Fromartz of the Virginia Avenue Park's community garden.
* It's time once again for the Capitol Riverfront Perception Survey.
Tell 'em what you perceive
.
Off-Topic:
* I've written a few times about my interest in Detroit, and whether it can come back from so far down. If you haven't been following along, here's
a great essay with lots of photos
, written by David Byrne. (Yes, that David Byrne.) (thanks to reader EH)
Small Update (Without Much News) on Barracks Search
Sep 23, 2010 3:48 PM
Unless you're big on process, RFIs, RFPs, and the potential crafting of legislation, there isn't really much news to report on the Marines'
search
for a location for a new barracks site to replace the aging and unsecure Building 20 at 8th and I. I was at the Community Leaders Group meeting this morning (as an observer, not a leader), and here's a couple snippets I came away with, although the very process-heavy discussions left me in the dust for much of the session:
What was originally going to be a public planning "charrette" this fall is now going to be a community forum, probably sometime in mid-November, coming after the Marines release a Request for Expressions of Interest to get a first read on the developers who might be interested in formulating a bid. The public forum (and a separate one on the same day for developers and industry types) will center around discussions about the official Request for Proposals that will then be crafted. (See, your eyes are glazing over.)
There are a couple of developers who have already floated ideas to the Marines, including the team of Winfield Sealander and Leon Kafaele, who both own a fair number of the lots on Square 929 and 930 (the two blocks between 8th and 9th and Virginia and M, including the "Quizno's building", although some of the lots along Potomac Avenue have gone through a foreclosure sale). The developers who bid on this public-private venture will need to demonstrate that they control or will control the properties on the sites they are proposing to develop; this would seem to make any proposed use of the Virginia Avenue Park site a bit more interesting.
The Marines are also looking at whether existing legislation covers their needs to get the development underway, or if new legislation needs to be written; if so, it would probably be placed in the next Defense Authorization Act. The if-all-goes-according-to-plan timeline is to get funding in the FY12 federal budget, with construction starting early in FY13. There would also be a
NEPA
process somewhere admist all of this well.
This has been a lot of words to basically say that there isn't much to pass along yet for people (like me!) who just want to know what's going to happen, and where, and when. But the Marines and the community leaders are clearly very aware of the community opposition to losing the two acres of open space that Virginia Avenue Park represents, though the Marines don't rule out the possibility of plans that would relocate some of the park's uses, even though there no doubt would be opposition to that as well. But of course there's some amount of community opposition for almost every
site that the Marines have identified
. But with
Square 882
now officially marked as "removed from consideration" on the Marines'
map
, the options for a site seem to be getting pretty narrow.
Norton Objects to Proposed Sites for New Barracks
Sep 2, 2010 12:52 PM
A
press release out today
from DC delegate Eleanor Holmes Norton wades into the
Marines' search for a location
for their new barracks:
"The Office of Congresswoman Eleanor Holmes Norton (D-DC) released a letter today from Norton to Brigadier General Robert R. Ruark, Assistant Deputy Commandant for Installations and Logistics, objecting to the potential sites selected by the U.S. Marine Corps (Marines) as the location to replace the D.C. Marine Barracks known as Building 20. Norton objected to the criteria the Marines seem to be using to narrow site selection, and wrote that conveniences for the Marines appear to have trumped their consideration of other possible sites. She objected to the two potential sites, Square 929, where Dogma runs a dog day care business, and to Square 930, where the community has converted a former drug haven into a park and community garden where residents grow fruits and vegetables.
"In her letter, Norton wrote, 'Your emphasis apparently has been on selecting a site in close proximity to the Marine Annex and Barracks Row, a convenient walk for the Marines, whose training is perhaps the most rigorous of all the armed services. Notions of convenience for your Marines should not supersede important community concerns, including consideration of the convenience for the community and the displacement of important community assets.' "
The release goes on to suggest as a possible location an "empty lot on 5th Street, between K and L Streets, next to the Marine Annex parking lot" -- which would appear to be referencing the current proposed site for the Capper
community center
.
Comparison of Potential New Barracks Site
Jun 21, 2010 3:27 PM
Via
ANC 6B commissioner Norm Metzger, the Marines have sent out a one-page
Comparison of Key Components chart
, looking at the four possible sites for a new Marine barracks that appear to still be in the running (
Square 882
is not on the chart, so
this letter
must have worked). There's not necessarily anything new in this table, but if you haven't slogged through the documents on the
project's web site
, it's a nice quick overview of the pros and cons (from the Marines' standpoint) of each location.
It does look like maybe they're looking at using their
current Annex site
at Seventh and L a little more intensely than it seemed in their early public workshops, with the possibility of expanding its footprint westward to Fifth Street, which would mean taking over the site where a
new community center
is to be built, and demolishing the parking garage built just east of Fifth in 2004. (But a new community center could be built as part of the "shared uses" scenario that the Marines are looking to enter into as part of their new plans to "create a win-win solution" for both the community and the USMC.) The baseball and soccer fields currently on the site would most likely be taken over in this scenario.
The Square 929/930 and 11th Street Exxon sites both would mean that the Virginia Avenue
PARK AND
Garden would have to be relocated, and though the document says that "replacement sites to be provided with goal of no net loss," the
PARK AND
garden's fans
are fighting hard
to not lose their current location.
The option of relocating the barracks to a site within the walls of the Navy Yard is also still on the table, though with the Navy talking about its
own needs for an additional 700,000 square feet
, it would seem difficult to reconcile the two expansion plans within the finite space of the WNY.
There probably won't be much news on the Barracks front until the "charrette" in September (details TBA), unless the Development Fairy makes a surprise appearance before then and finds a location that pleases all sides. For more background on the search up to now,
read my previous entries
.
(UPDATED to prevent hordes of Virginia Avenue Park fans from burning me in effigy for mistakenly referring only to the garden and not the entire park.)
Virginia Avenue Gardeners Fighting Possible Barracks
Jun 7, 2010 7:38 AM

Monday's Post covers
for the first time the
Marines' search for a new barracks site
, from the point of view of the residents who maintain the
Virginia Avenue Garden
at Ninth and Potomac, which could be relocated to another section of the park if the Marines choose the area east of Eighth Street. "But the community gardeners, in Capitol Hill style, are
mobilizing to save their home
. [...] [T]he gardeners say it has taken them years to amend the unforgiving clay soil with nutrients."
The article quotes Capt. Lisa Lawrence as saying, "Our goal is not to take over a neighborhood," and that the Marines are looking at every option. "But we won't be able to please everybody."
Also mentioned is that the
DCHA/Square 882 site
at Seventh and L "has moved to the bottom of the list," according to Lawrence (presumably in response
to this letter
). And there's information about what appears to be Tommy Wells's preferred solution, that he's "fighting to keep the garden alive by urging the Marines to tear down the parking lot next to the
annex
and rebuild it underground, freeing space for a new barracks. Lawrence said a parking lot under a barracks would probably pose a structural challenge. 'We don't have a strong negotiating position," Wells said. "Who wants to take on the U.S. Marines?'"
If you want more background on the Marines' search,
I've written a word or two
on it over the past few months.
UPDATE:
I meant to also include this link to a recent
Hill is Home post
on the history of the park, tied to whether or not the Marines' plans would conflict with the L'Enfant Plan. (Though I'm not sure Monsieur L'Enfant envisioned a big, honking, elevated freeway, either.)
Housing Authority Officially Requests Marines Stop Looking at Square 882 for New Barracks
May 28, 2010 12:58 AM

I've been chroncling
over the past few months the
Marine Corps' search
for a spot for a new barracks, which has focused on a number of sites in Near Southeast, including the block bounded by Fifth, Seventh, L and M just south of their newest barracks that used to be home to the old Capper Seniors apartment building. It's been clear in public meetings and various other rumblings that both city planning officials and the DC Housing Authority are
very much against
the Marines using this site, with
plans having been in place
for a number of years for this
now-empty/parking-lot block
to become home to both a 600,000-square-foot office building and a 189-unit mixed-income apartment building (shown above) as part of the
Capper/Carrollsburg redevelopment
.
Clearly feeling that the Marines haven't given up on the site as an option despite these plans, DCHA has now
sent the Marines a letter
officially requesting that the Corps "not continue to propose redevelopment options on the DCHA-owned Square 882 as a future site for its facility needs." The letter explains that DCHA has already secured funds to improve the infrastructure around the square, has spent "substantial predevelopment funds" on design and engineering drawings, and is anticipating beginning work on the residential portion of the site in October. (There's currently no timetable for the office portion.) Further, DCHA says it "recently received an invitation from HUD to submit an application for a FHA loan guarantee to support the planned residential construction on the site," and that this construction is expected to start "this winter."
Nothing in the letter is necessarily a surprise--I've written fairly extensively about
DCHA's plans
and about the zoning travails they went through before
getting a second-stage PUD approval
for Square 882 last year, which even included
many discussions and agreements
with both the Marines and the Navy about security requirements for the new buildings on this block. But clearly DCHA is hoping to be completely removed from the Marines' list of potential sites in the same way that the DC Public Schools (and parents) got Tyler Elementary removed from consideration. But it's also clear from the public workshops that the Marines very much like what Square 882 has to offer them in terms of space and proximity to the other USMC operations in the area.
The Marines are hoping to make a decision on a site by September. You can see
all the sites under consideration
and the various options on the "Community Integrated Master Plan" web site.
Marine Barracks Public Workshop on Saturday
May 19, 2010 6:57 PM
This Saturday (May 22) the Marines
are holding an open house-style public workshop
as part of their
continuing quest
to find a site for a new Marine Barracks. It will be from 10 am to 2 pm at the International Graduate University (formerly the Buchanan School) at 1325 D St., SE. I've written a lot about this, so will avoid summarizing--you can read my reports from the
April
and
March
workshops along with
other recent posts
). If you want to see the various locations that the Marines are zeroing in on,
their web site has a lot of detail
--and, judging from the comments sections on the various layout plans, the participants and fans of the Virginia Avenue Community Garden have joined together to to voice their opposition to any of the options that would either relocate or close down their garden. (There's also the families whose kids play sports voicing their opposition to any of the options that would take away the field at the
Seventh and Virginia Barracks site
. It's almost like there's no location that will please everyone!)
In fact, ANC 6B commissioner Norm Metzger, who is part of the Community Leadership Group that meets separately with the Marines, has
posted a few notes
from their May 13 meeting, and hits on the theme I just snarked about: "There remains a lack of clarity, despite a lot of words spoken at the meeting, on how an actual decision will be made. That may or may not happen at the September 'charette' (structure/aims tbd). Part of the problem is, as often happens, loose use of language. The convenient phrase 'the community' recurred throughout the meeting. But there is no THE COMMUNITY. Rather, at the table were the development community, the sports community, the retail community, the political community, etc. Satisfying all these communities, while meeting the Marines' needs, is and will continue to be a bear." Norm also posted some information on
possible options for the reuse of the existing "Building 20"
on the southeast corner of 8th and I.
Latest on the New Marine Barracks Location Search
Apr 23, 2010 11:36 PM
This week the Marines held a third community workshop as part of their quest to find a new location for their Bachelor Enlisted Quarters (BEQ), to replace the aged and un-secure "Building 20" at Eighth and I, SE. This session centered on visions/possible layouts of the five locations that the Marines are zeroing in on, all of which are in Near Southeast, now that Tyler Elementary has been knocked off the list. The people running this planning process deserve a lot of props for being very good about posting their meeting materials online, mostly because it obviates the need for me to go on and on trying to describe them. (Yay!)
While the
presentation slides
are good for an overview of the process, the real meat to chew on is the new "
Regions Forums
." (Though, a hint to the folks running the web site: I'd turn off the "Interactive Map" scroll that is the link to these Options slides, and maybe rename the link, because it's easy to miss and contains such important information.) This is a series of very detailed drawings of possible layouts (and pros and cons) for the locations they're studying, which include four that have been
previously discussed
(the current Barracks site on Virginia Avenue between Fifth and Seventh, DCHA's
Square 882
just to the south on L between Fifth and Seventh, the Exxon/Virginia Avenue Park site at 11th and M, and inside the walls of the Navy Yard), and a new location (Squares 929/930), which are the blocks between Eighth and Ninth and Virginia Avenue and M Street.
The 929/930 site seemed to get some interest from the sparse number of community members who attended the Wednesday night session I was at (I don't know about the response at Thursday's session), even though it would close L between Eighth and Ninth and would take a big bite of the Virginia Avenue Park (requiring the move of the community garden closer to the freeway). A representative of Madison Marquette--owners of the "Blue Castle" right across the street--said that they are very much in favor of this option, saying that it would help to "animate" lower Eighth Street. There was also some talk that perhaps the Navy Yard, in its quest for more space of its own, might then look at the Exxon site at 11th and M as an attractive location to expand to, giving that big stretch from Eighth to 11th south of the freeway a very military feel. There is of course a stretch of private homes along Potomac between Ninth and 10th where the homeowners might not be quite so interested in having military installations on three sides, and the Spay/Neuter Clinic at 10th and L might also end up needing to relocate. It would appear that the businesses along the east side of Eighth would get to stay (Port Cafe, Quizno's, Chicken Tortilla), but Dogma at Ninth and Virginia might lose out under this proposal.
As for Square 882, the Marines said that DCHA has said the location can remain on the "options" list even though the agency is actively working to secure funding for the apartment building they're planning for the site. It must be said that there does seem to continue to be a bit of a disconnect between how the Marines are characterizing the availability of this lot compared to what DCHA is indicating; also, Ward 6 planner Melissa Bird spoke up to say that the city continues to be very much opposed to Square 882 as a location for the Barracks.
But, blah blah blah, these few points are just a bit of atmosphere. Anyone who's interested in what the neighborhood may look like in a few years should be
looking at all of the location options
, as well as the "
Potential Shared Community Projects
" that the Marines see as what they can give back to the community in return for the land they will occupy. Readers should also make use of the "Comments" options that are available on each option page of the CIMP web site, as the Marines continue to stress that they truly have no plan at this point, and need the input of the community to help guide their final decisions. The next workshop, on "Consensus Elements," is scheduled for Saturday, May 22.
The Week's Agenda (Streetcars, Marines, Happy Hour)
Apr 20, 2010 1:13 AM
A few items for your calendar over the next three days:
* (
Via Streetcars 4 DC
) "Tomorrow, Tuesday, April 20 at 6:30 pm, at a meeting hosted by Advisory Neighborhood Commissions 5B, 6A and 6C, District Department of Transportation (DDOT) Director Gabe Klein and Streetcar Project Manager Scott Kubly will appear at a community meeting to update D.C. residents on DDOT's progress toward bringing streetcars to the District. [...] The meeting will be at Wheatley Elementary School, which is located at 1299 Neal Street NE."
* The "
Community Integrated Master Plan
" project--better known as the process the Marines are undergoing to find a location for a new barracks--is holding two sessions of its third public workshop, on Wednesday (April 21) from 6 to 8 pm at Van Ness Elementary and from 8:30 to 10:30 am on Thursday (April 22) in the North Hall of Eastern Market. And each session will also now have an open house beginning a half-hour earlier to allow participants to look at materials and ask questions. The
agenda for both meetings is now posted
, and this session will be focusing on "Alternatives." For background on what's happened with this project up to now,
read my prior posts
(don't feel like summarizing it all right now!).
* It should be considered a very unofficial and low-key happening, but I am planning to be at Justin's on Thursday starting at around 5:30 pm, and would love to have any and all interested parties come hang out for Happy Hour, not only so I can meet the readers who make JDLand what it is but so that you guys can meet each other. (No fistfights over CSX plans, barracks possibilities, or dog parks, please!) The Nats will be playing the Rockies starting at 4:35 pm (oops), so hopefully we'll be socializing until the game's over for those folks who want to swing by after the game. I hope you'll be there!
32 Posts:
Go to Page:
1
|
2