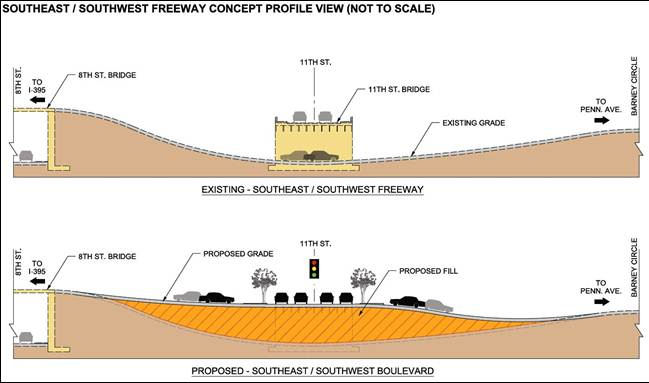 With the reconstruction of the old Southeast Freeway east of 8th Street into the new
Southeast Blvd
., DDOT is running a transportation planning study that is looking how best to integrate this rebuilt stretch of road with the adjacent neighborhoods between 11th Street and Barney Circle. To that end, there is a
public meeting about this "opportunity for adaptive reuse"
being held this Thursday, Feb. 21, at 6:30 pm at Payne Elementary School at 1445 C St., SE. Representatives of DDOT and the technical team working on Southeast Blvd. will be there to provide details about the study and future plans for the area, as well as to answer questions.
This would probably be the perfect forum to ask some of the questions that have been posted in the comments here, such as whether the new boulevard will have an intersection with 13th Street, and how the pedestrian/cycling trail planned to be built alongside the boulevard will be handled.
Full Closure of SE Freeway East of 8th Begins Jan. 31; New Southeast Blvd. Page, and 11th Street Bridges Progress Pics
Jan 30, 2013 11:02 PM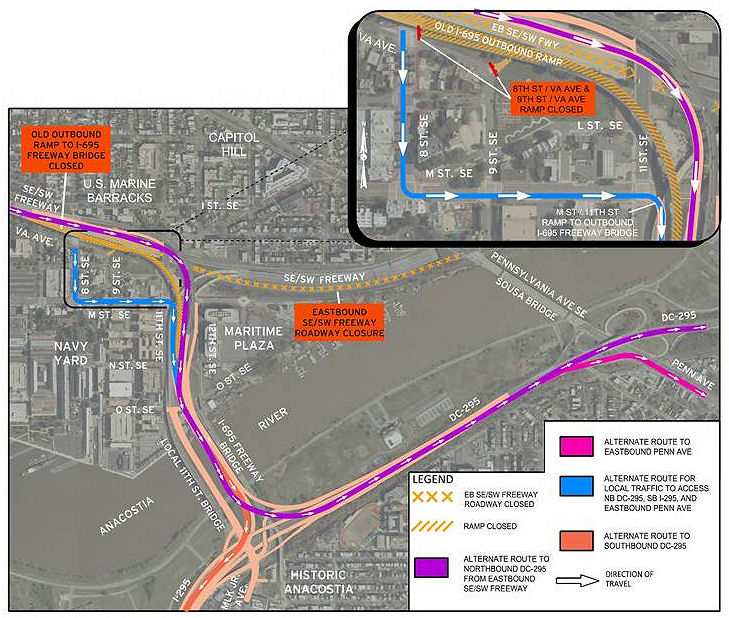 As I
wrote a few days back
, the portion of the Southeast Freeway between 8th Street SE and Pennsylvania Avenue will be fully closed after the evening rush hour on Thursday, Jan. 31, to both begin work on the new
Southeast Blvd.
and to demolish the existing outbound flyover ramp and replace it with a new three-lane one.
One thing I didn't mention in that post is that, with these closures Thursday,
both the 8th Street SE on-ramp to the outbound I-695 freeway bridge and the 9th Street ramp toward Pennsylvania Avenue will be closed
.
As the
helpful graphic at right
from DDOT shows, if you're wanting to get on I-695 outbound, you'll need to use the ramp on the southeast corner of 11th and M.
Since this closure now makes the Southeast Blvd. project truly seem underway, I've been spurred into an unexpected burst of action, and have
created a Southeast Blvd. project page
, separate from my recently refreshed
11th Street Bridges page
. Right now it's mainly drawings, "before photos," and links to my
previous posts
on the project, but I will keep it updated throughout the expected 18-to-20-month span of construction: