Near Southeast DC: Past News Items
CSX/Virginia Ave. Tunnel
Go to Full Blog Archive
---
Another Virginia Avenue Tunnel Meeting Scheduled for Sept. 27
Aug 20, 2012 11:24 AM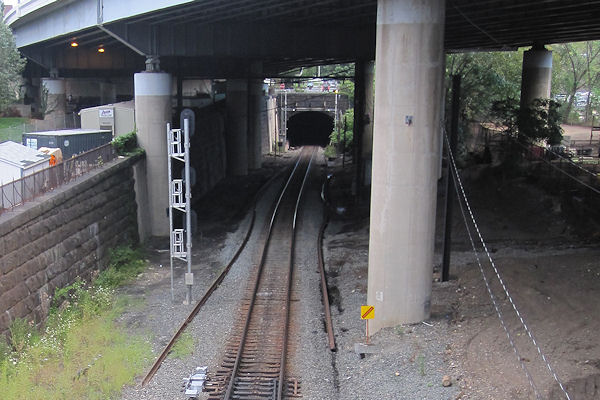 The
August edition of the Virginia Avenue Tunnel newsletter
is out, with the news that another public meeting on the project is scheduled for Sept. 27, from 6 pm to 8 pm at the Capitol Skyline Hotel. The meeting is described as providing an update on the project and to "share information about the alternatives being evaluated in the Draft Environmental Impact Statement (EIS)." In other words, this isn't the meeting to unveil the draft EIS, which is expected to come this fall.
There isn't much else of note in the newsletter (noise studies ongoing, Section 106 historic preservation review ongoing, how to comment, etc.), so I'll admit this post is mainly a sneaky way to once again point out my new
Virginia Avenue Tunnel page
, where you can get an overview of this project and see the concepts currently being evaluated, along with plenty of photos from along the tunnel's path.
New Project Page: Virginia Avenue Tunnel Expansion
Jul 26, 2012 9:40 AM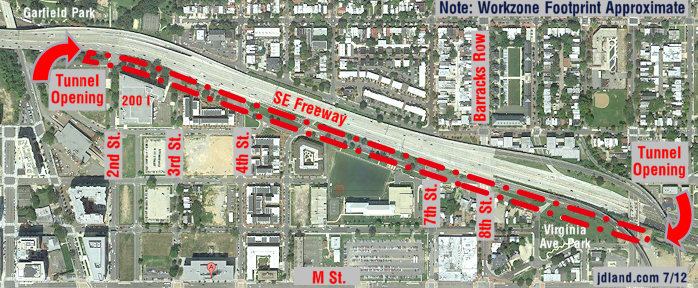 A glaring hole in my "project page" lineup is being filled today, as I am at last unveiling an ultra-exciting
Virginia Avenue Tunnel Expansion page
. (Um, yay?)
It's still just an overview at this point, since there is no design yet chosen and therefore all of the specifics that residents and neighbors are clamoring for about construction impacts and possible potential post-construction improvements to the street and its surroundings aren't yet available.
But I figured it was time to at least prepare for the inevitable before-and-afters with current photos from along the tunnel's 10-block footprint, plus it makes the current "concept designs" being reviewed by the EIS more easily accessible. And it also just finally gives me a page to point people to. (As with yesterday's
development map refreshing
, this has only been on my To Do list for a couple of years. I've been busy. And lazy. Lazy and busy.)
There's been no new announcements since the
last EIS meeting in May
; at that time, it was expected that a draft EIS would come out this fall, with a final decision in spring 2013. (Though other EIS schedules I've seen in the past have experienced some slippage, so we'll see how the tunnel's goes.)
Tuesday Tidbits: Bridge and Tunnel (and River) Edition
Jun 5, 2012 4:26 PM
*
The Post writes about
Virginia Avenue residents battling CSX on
tunnel plans
. (The comments section is festive as well.)
* The
Navy Yard alerts folks
that the 11th & O gate to their part of the Riverwalk will be closed for approximately three weeks because of demolition work on the old outbound
11th Street Bridge
. (This means that the Navy Yard Riverwalk itself isn't closed, it just means you can only access it west of 11th Street.)
* Speaking of the old bridge,
City Paper writes
that this demolition doesn't mean the end of the "recreation bridge across the Anacostia" idea, just that it was determined that it would be better to take off the old bridge deck than to try to maintain it while working on the recreation bridge idea, which will still need financial backing even after the design competition is held this fall.
* Speaking of the river, DDOT has launched
AnacostiaWaterfront.org
as a new online home for information on projects along the river, such as the 11th Street Bridges, the planned new South Capitol Street Bridge and associated corridor upgrades, the Riverwalk, and
other projects
.
*
One tidbit unearthed
in the new web site: An environmental assessment is expected to start this fall on reconstructing Barney Circle and transforming the "easternmost dead-end section of the Southeast/Southwest Freeway into a boulevard between the circle and 11th Street, SE."
(As always, follow JDLand on
Twitter
or
Facebook
if you want quicker access to these types of tidbits, most of which I sent out over the past week or so.)
Virginia Avenue Tunnel Meeting Presentation Slides, Boards
May 29, 2012 11:51 AM
I wasn't able to attend last week's public meeting on the Virginia Avenue Tunnel, but the
presentation slides
and
display boards
are posted on the
project's web site
.
This is the stage of the Environmental Impact study where the
initial lineup of possible concepts
have been winnowed down to the four that will be evaluated for the final EIS:
* Concept 1 - "No Build" (i.e., leave as is);
*
Concept 2
- Rebuild tunnel with a temporary track running in an open trench to the south of the existing tunnel;
*
Concept 5
- "Permanent Twin Tunnels," with a new tunnel built via open trench to the south of the existing tunnel, which would be rebuilt as well;
*
Concept 6
- "Rebuild Online," where the current tunnel would be rebuilt via open trench along the existing alignment, and trains would run in that same trench during construction.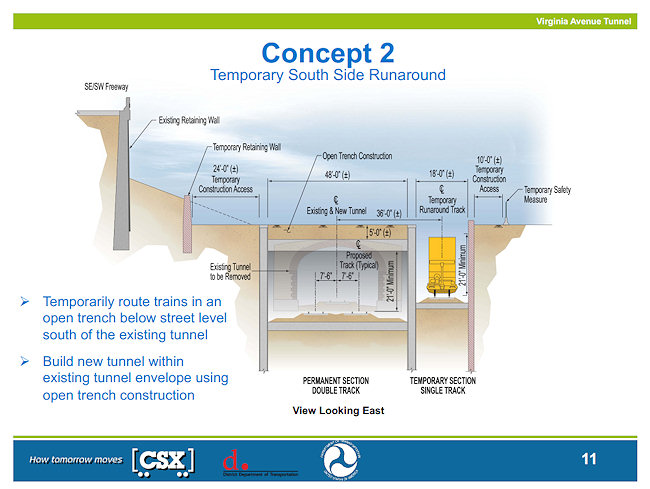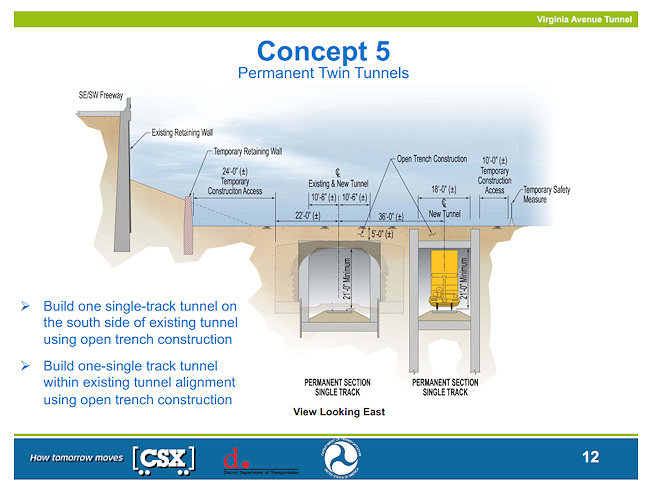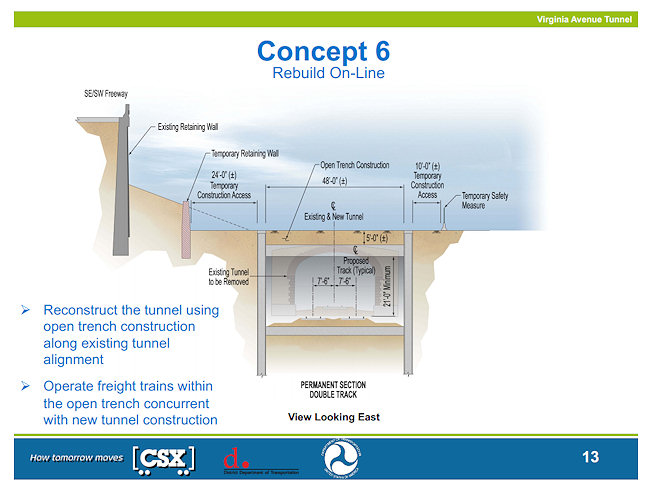 Also contained in the
slides
is information about how traffic would be routed with the closure of Virginia Avenue on the south side of the freeway between 2nd and 11th. As has always been stated, north/south traffic on the numbered streets would be maintained across Virginia, and temporary driveways/access are shown on 3rd and 4th Street for Capitol Quarter and the 200 I/225 Virginia loading dock. It's also shown that Virginia Avenue north of the freeway would become two-way between 6th and 8th streets, so that traffic exiting the Southeast Freeway at 6th would all be directed left under the freeway and then would be able to continue to 8th Street on Virginia.
There's also some
slides
on the vibration and noise analyses being done, and how Virginia Avenue might be improved after construction is completed (with bike lanes being a possibility, which
immediately warmed David Garber's heart
).
The draft Environmental Impact Statement is expected to be released this fall, in which the design for construction will be identified; the entire process would be completed in spring, 2013. Comments can be submitted to
contact@virginiaavenuetunnel.com
or
via the web site
.
This Week: Virginia Ave. Tunnel, M St. Meetings, First Front Flick
May 20, 2012 11:30 AM
To allow you to properly plan your calendar for the week, I'm posting this nice and early:
*
Virginia Avenue Tunnel
: Monday night is
another public meeting
on the
planned Virginia Avenue Tunnel reconstruction
, at which it's expected that DDOT, FHWA, and CSX will be presenting the concepts that have been chosen from the
original batch
to study in detail as part of the
project's EIS
. The meeting is at
Nationals Park
at 6 pm.
And, speaking of the tunnel, the noise and vibration field studies required as part of the EIS
will be happening this week
. (But no fair stomping on the ground and gunning your car's engines for hours at a time.)
*
M Street SE/SW Transportation Study
: The meeting to update the public on the progress of the
M Street SE/SW Transportation Study
is on
Thursday, May 24, from 6:30 pm to 8 pm
at the Capitol Skyline Hotel, 10 I St. SW. The
study area covers
the stretch of M from 12th Street, SE to 14th Street, SW, along with the adjacent areas from the Southeast/Southwest Freeway south to the Anacostia River/Washington Channel. DDOT is looking at "how to integrate transit, bicycling and walking with motor vehicle traffic," while also trying to figure out how to balance residents' preferences for how M Street should be configured versus how visitors, workers, and commuters expect it to flow. The
first meeting was in January
, and the final report is expected in the fall.
*
Front Flicks
: If you are looking for something slightly more entertaining than either of the week's meetings, don't forget that the Capitol Riverfront BID's free
Front Flicks Summer Outdoor Movie Series
begins this week on Thursday, with "Lara Croft: Tomb Raider" leading off the lineup of treasure hunt-themed offerings. Movies start either at 8:45 pm/sundown at Tingey Plaza, just behind
USDOT
at New Jersey and Tingey.
Alas, I won't be at any of these events, because first thing Tuesday I'm headed to the disabled list, to get some health issues dealt with that have been dragging me down for awhile now. There will be a few weeks of recovery time, so I ask all parties to please refrain from making any news before, say, mid-June, or at least make it something simple and/or something that won't require my attendance. (DDOT is already On Notice if they do indeed
partially open the 11th Street Local bridge
when I can't document it.)
I imagine I'll reappear on
Twitter
fairly quickly, since I know better than to think I can stay off the Internet while I'm doing little but laying around. But most likely the bulk of my narcotics-tinged/boredom-induced missives will be via my non-official
@jacdupree
account, if you want the entertainment.
In the meantime, feel free to use this post's comments to discuss this week's meetings and as a general open thread, but I will be watching and popping in, so don't you kids think you can throw a wild party while Mom's not looking! And hopefully I'll be back to photo taking and other obsessive-compulsive pursuits before too long.
ANC 6D Recap 2: Canal Park, Community Center, CSX Letter
May 15, 2012 1:35 PM
Moving from the "P" portion of Monday's ANC 6D meeting (
pylons and parking
) to the "C"s: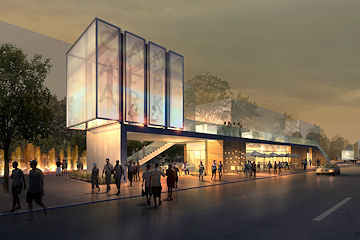 *
Canal Park
: Chris Vanarsdale of the Canal Park Development Association gave an update on construction, the bottom line of which has not changed from what's been mentioned the past few months, that because of unexpected issues, the park's opening has been delayed until November. Unmapped utilities that required a redesign of the stormwater management system have been a big stumbling block, but Vanarsdale also mentioned the soil-related difficulties when building on the site of an old canal. Construction is now 60 percent complete, and the work on the pavilion is almost done.
Here are the presentation slides
, and you can also check out the
official web site
for more details (along with
my project page
). Oh, and they're thinking about offering Zamboni driving lessons!
*
Community Center
: The DC Housing Authority has filed a request with the Zoning Commission for an extension for construction of the planned
Capper
Community Center
, which
already received one extension back in 2010
that
6D supported
. DCHA has apparently requested that the Zoning Commission act within 30 days on the request, news of which the ANC received on Monday. So the commissioners voted unanimously to send a letter urging postponement of the zoning case so that the ANC can address the request and form a response with a vote at next month's meeting. Commissioners Litsky and McBee also both commented that the project shouldn't be getting another extension.
UPDATE:
Here is the
letter sent on behalf of DCHA
to the Zoning Commission asking for the extension: it would be for two years, requiring building permits by July 1, 2014 and construction underway by July 1, 2015.
*
CSX/Virginia Avenue Tunnel
: The commissioners voted 6-0-1 to
send this letter
to the appropriate parties laying out the ANC's opinion on the plans to reconfigure the
Virginia Avenue Tunnel
. After listing the various ways that the proposed construction "would put people, homes, businesses, and fragile historic resources at risk," the letter states: "[W]e strongly believe that the best options for our community are for CSX to either leave the Virginia Avenue Tunnel in its current state (Concept 1) -- with the suggestion that if this option were chosen that the tunnel would be fully maintained for the safety of both the trains below and the communities above, or to reroute additional train traffic outside the District of Columbia [...] instead of in an expanded Virginia Avenue Tunnel." But, if the construction does occur, "it is absolutely imperative that the health and safety of our many residents, the economic and physical well-being of our businesses, parks, religious institutions, homes, and historic buildings, and the north-south access for all existing modes of transportation be preserved and enhanced." A number of
Capitol Quarter
residents in attendance also spoke in support of the ANC's support. The
next public meeting
on the plans for the tunnel will be May 21 at 6:30 pm at Nats Park.
One more recap post to go, probably tomorrow.
Next Virginia Avenue Tunnel Public Meeting May 21
May 4, 2012 9:06 AM
Study of Virginia Avenue Tunnel Project Switches to EIS Format
May 3, 2012 8:51 AM