Near Southeast DC: Past News Items
909 New Jersey
Go to Full Blog Archive
---
Sale of Two JPI Buildings Completed - But What About 70 I?
May 1, 2012 8:38 PM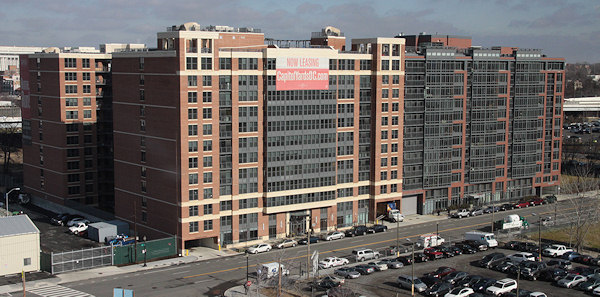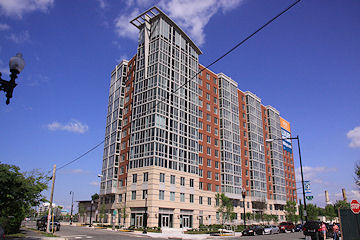 A press release sent out on Tuesday is
trumpeting
the sales of two of the buildings in the "Capitol Yards" lineup,
909 New Jersey
and the Axiom at
100 I Street
, the completion of a pending deal that I
first wrote about in January
. However, back then, residents in Axiom's sibling, the Jefferson at 70 I, were also notified that their building was under contract, but that deal apparently didn't complete with the other two. The 448-unit Jefferson was the priciest of the three offers, at about $165 million, compared to about $94 million for the 245-unit Axiom and $95 million for the 237-unit 909.
Did the Jefferson's residents go out back with metal detectors and find the $165 million needed to purchase the property themselves? Or are there a few more i's to dot and t's to cross to finish the deal? Or is something else afoot?
In the 100 I and 909 New Jersey sales, the buyers are "institutional investors advised by J.P. Morgan Asset Management."
The three buildings were completed by JPI back in 2008 and 2009, but the recession hit the company hard and eventually two of its executives boltered to partner with folks from Akridge
to form
the
Jefferson Apartment Group
. But 70/100/909
apparently
remained part of
JPI
's holdings, as did the empty lot at 23 I Street where JPI's fourth apartment building had been planned, until
it was foreclosed upon
and picked up by Ruben Companies in late 2009. The three buildings, completed in 2008 and 2009, have been managed by
Greystar
ever since JPI sold its property management division to the company.
UPDATE: I'm hearing chatter that residents of 70 I did form a tenant association to attempt to buy the building themselves, which then adds some additional time to the deal to allow the residents to find financing to match the initial offer. Anyone from the building want to chime in?
Sales Apparently Pending on Three JPI Apartment Buildings
Jan 30, 2012 9:10 PM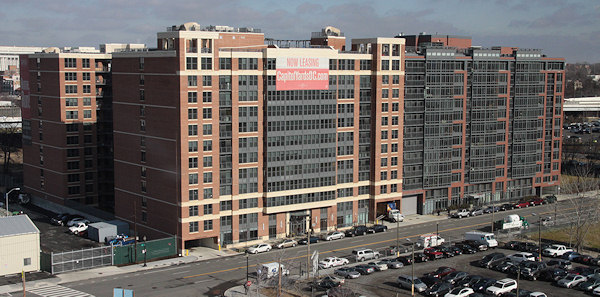 Residents at three of the neighborhood's "new" apartment buildings--the Jefferson and Axiom at
70 and 100 I Street
, and the
909 New Jersey Avenue
building, branded together as "Capitol Yards"--are reporting the posting today of public notices, along with e-mails from management, announcing that the buildings are under contract to be sold.
Who is (are) the buyer(s)? As of now I've only seen the paperwork for 100 I (thanks to reader B.), which says that it's "100 Eye Street Acquisition LLC c/o J.P. Morgan Investment Management."
UPDATE:
Plus, via reader S., I hear the buyer for 909 New Jersey is, as suspected, "909 New Jersey Ave Acquisition LLC," and reader M. says that the buyer for 70 I is, you guessed it, "70 Eye Street Acquisition LLC."
So,
as required by DC law
, the buildings are now being offered for sale to the tenants, which happens "after the owner has accepted (ratified) a third party sale contract for the housing accommodation."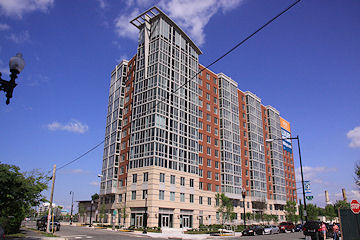 That paperwork says that the price of 100 I for any tenant organization that may form to purchase the 246-unit building would be $93,879,000; readers report that the number for 70 I (448 units) is about $165 million, and 909's price (237 units) is around $95 million, which presumably are all somewhere in the neighborhood of the contract sales prices.
Apparently the buildings
went up for sale
sometime
over the summer
(can't believe no one blabbed!), joining the
Onyx on First
apartment building a few blocks south
on the sales block
.
JPI East, which developed the three buildings during the high-flying mid-2000s, was already a wounded casualty of the Economic Difficulties when two of its executives took what was left of the company and partnered with folks from Akridge
to form
the
Jefferson Apartment Group
. But 70/100/909
apparently
remained part of
JPI
's holdings, as did the empty lot at 23 I Street where JPI's fourth apartment building had been planned, until
it was foreclosed upon
and picked up by Ruben Companies in late 2009. The three buildings, completed in 2008 and 2009, have been managed by
Greystar
ever since JPI sold its property management division to the company.
I'm sure there's much more to be told, and I'm hoping this barebones blog post (written by a very bleary blogger back from an unexpected 36-hour road trip) will shake out a bit more info. If anyone from 909 NJ or 70 I wants to check the paperwork to see if the buyer listed is some similar variant to 100 I's LLC/JP Morgan entry, that'd be fab.
Also, if any tenant groups are planning to form and shake out their collective sofa cushions in search of $95 million or more, be sure to let me know.
UPDATE: I've reworked the opening of this post a bit after getting some additional information. And an e-mail going out to residents about the sale reminds tenants that "your tenancy, including your rent, lease term, and the services and amenities you receive, are governed by your lease."
Harry's Reserve Opens its Doors, Spirit-Starved Residents Rejoice
Mar 10, 2011 2:26 PM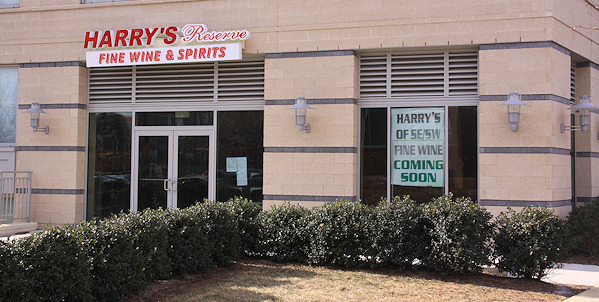 I haven't been there myself, but readers are reporting
via
Twitter
and
Facebook
that Harry's Reserve Fine Wine and Spirits is now open for business on the southwest corner of New Jersey and I, in the ground floor of
909 New Jersey
. It's been
almost 10 months
since the owners first signed a lease and started the liquor license process, but it's now the neighborhood's first outlet for the hard stuff in a number of years. It's also the first retail space at 909 New Jersey to be occupied, and the first new retail offering in Near Southeast since Justin's Cafe opened last April.
This is apparently a bit of a soft opening (so be gentle!), with a true "Grand Opening" coming in two weeks or so. The owners are the same folks who own Capitol Hill Wine and Spirits in the 300 block of Pennsylvania Ave., SE, and who owned the Harry's liquor store in the old Waterside Mall in SW. When the owners
met with ANC 6D's ABC subcommittee
, they indicated that "they would sell beer, wine, and liquor, as well as milk, sodas, juice, cheese, and other "quick stop" items, and are very much wanting to emphasize that this is going to be a 'community' store, with higher-end products, wine tastings, and other offerings beyond what people normally think of when they hear 'liquor store.'"
I will get down there myself to check it out if the rain ever stops, but if you've paid a visit, let us know in the comments what's on the shelves and any other impressions.
Progress at Harry's and LRB; Other Chilly Photos
Jan 24, 2011 10:52 AM
A Sunday morning checklist: Variably sunny? Check. Temperature 22 degrees? Check. Winds 15-20 mph? Check. Then clearly it was time to walk around taking the photos I forgot to take last week.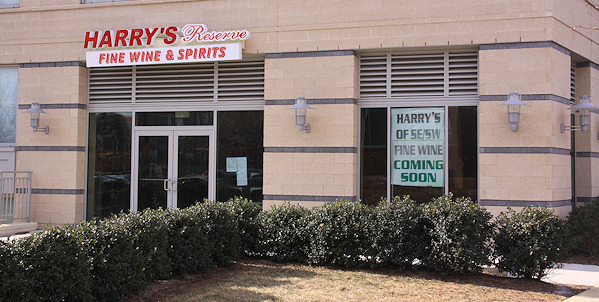 Signage is up on both New Jersey Avenue and I Street for
Harry's Reserve
, the upscale wine and spirits store coming to the ground floor of
909 New Jersey
, and a peek inside shows a big space with lots of dark wood cabinets. Don't know if they'll hit their Feb. 1 target date for opening, but they do look like they're in the homestretch.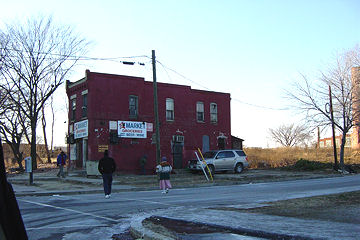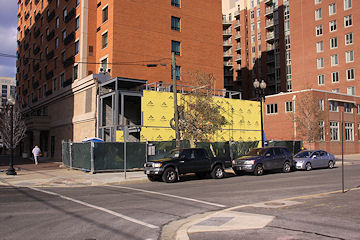 Meanwhile, the framing is done and exterior walls are starting to go up at Little Red Building v2.0 (or Lot 38 Espresso, which is apparently the new new name), and it's
interesting to see
that the profile of the new building is pretty similar to the old one--maybe it'll be like an actress of a Certain Age, getting rebuilt from the ground up while trying to not look like she's had any work done. No timeline at this point for when the shop might open.
UPDATE:
I heard from Lot 38's owner today, saying that he's now looking toward an April opening for the coffee/sandwich shop.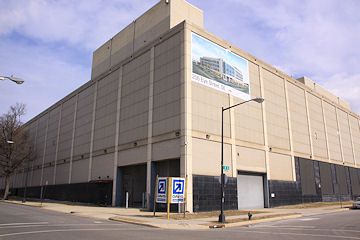 I also took a
pretty full series of photos
of
225 Virginia
(soon to be 200 I), not to document any changes but to get what might be a final set of "before" images, since the word had been that construction was supposed to start in December, and then January. (There are a few piles of construction fencing now on site, but I wouldn't expect work to be truly imminent until that firetruck parked on site at 3rd and I disappears.)
You can browse the
entire batch of Sunday's photos
, clicking on the

icon to pair any shot with its "before" image. There's also
last week's new photos
, in case you missed them, showing the progress at
Capitol Quarter
,
1015 Half
, and the
Foundry Lofts
.
Tuesday Tidbits: Harry's, NatsFest, Yards Park, Etc.
Jan 18, 2011 3:04 PM
Some recently
Tweeted
items, and a few new ones, worth wrapping up into a quick post:
* Last week I heard from the owners of what will soon be the
Harry's Reserve
"upscale" wine and spirits store at New Jersey and I, saying that they hope to be open by February 1.
* This year's NatsFest at the
baseball stadium
will be held
on March 30
, the day before the Opening Day home game against the Atlanta Braves. The schedule of events is still to come, but hopefully the decision to better tie in the event to the hoopla surrounding the start of the season won't be offset by it being on a Wednesday, when it's harder for kids to be there. (Especially kids who may already be playing hooky the next day!)
* The
Yards Park
web site now has
information about renting space
for public, private, or community events. And if you wander through the
calendar
, you can see what events might be on tap for this year, though the
main calendar
shows what's been confirmed, such as the Capitol City Beer Festival on May 28, the
previously discussed
DC Music Festival on May 7, the
MetroDash obstacle course race
on July 9, and a monthy Art Market.
* Stephen Strasburg,
working on his degree while rehabbing
, has written a thesis on the effects new stadiums have on neighborhoods, with a focus on
Nationals Park
. If he was looking for information on what the neighborhood
looked like "before,"
I hope he found it! (And no, the thesis isn't available anywhere.)
* The National Capital Planning Commission will be looking at the final
11th Street Bridges
site and building plans at their
February 3 meeting
. Gosh, I hope they like where the bridges themselves are placed in the designs!
* Off-topic, but the
hunt seems to be back on
for a new DC United stadium location, with one of the potential spots being across South Capitol Street at Buzzard Point in Southwest. (Please note that I said Buzzard Point. There is no s on the end. In case you missed 642 tweets about it today.) SWill has
some additional information
.
And, coming on Thursday (I hope), my 2011 State of the Hood roundup of the past 12 months' worth of activity, and what might be on the horizon. (I'm telling you this to force myself to actually get it done.)
11th Street Bridges Status Update; Other Catching Up
Nov 1, 2010 9:52 AM
I'm now back after a week wandering the Midwest again, this time spending a few days in Chicago and then going up to Milwaukee, where touring time was cut short thanks to that epic windstorm (but at least I got to see the
Historic Third Ward
and the
Milwaukee Public Market
). Lots of photos of streetscapes and buildings
are here
, if you feel like looking at some non-Near Southeast images for a change.
To catch up....
* Dr. Gridlock
gave an update
on the progress of the
11th Street Bridges
project, which is now more than 25 percent complete. A pretty showy part of the construction will be starting soon, "when steel girders arrive for the new bridge spans. They will be trucked out onto the old bridges and lowered onto barges in the river below." The story gives this timeline: in spring 2011, the new alignment of southbound 295 opens; in fall '11, the freeway bridges (the upstream ones) will open; in winter 2012/13 the local (downstream) bridge between Anacostia and Near Southeast will open, with the entire project expected to be completed in summer 2013. (If the alignments and uses of the new bridges aren't clear to you, check my
11th Street Bridges project page
for more detail.)
There's also
some new lane restrictions
that started last week and will run through Nov. 23: the left lane of 11th Street SE from M to N is closed, and N Street SE between 11th and 12th is closed overnight Tuesdays through Fridays. There are other restrictions and closures as well on 295 and the SE Freeway.
* The Post's Capital Business weekly
has more information
today on the
foreclosure sale
of
100 M
, including this part that is probably of most interest to residents: "Although thousands of fans pour out of the Metro station nearby for baseball games, the Opus bankruptcy has prevented retailers -- other than a SunTrust bank branch -- from occupying ground-level storefronts. Michael Stevens, executive director of the Capitol Riverfront Business Improvement District, said he hoped that with new ownership, that would change. The retail broker for 100 M St., he said, 'has had some tenants that were interested in that property, but he couldn't sign any leases because it was in bankruptcy.' "
* It wasn't exactly a shocker that
Greater Greater Washington endorsed
David Garber for ANC 6D07 commissioner. Along the same lines, there's a
good piece by Housing Complex
this morning on the dysfunctional aspects of the ANCs, with some ideas on how to fix them. Having been tortured by sitting through many ANC meetings for more than five years now, I can certainly vouch for a lot of the issues mentioned. Perhaps there needs to be a Rally to Restore ANC Sanity.
* If you've wanted to know about Ann of Ann's Beauty Supply and Wigs Co. at 125 L St., SE,
People's District recently profiled her
. (Except I think they either mistranscribed the date of her shop opening, or this interview was done when her store was still in the old Waterside Mall in Southwest, because her store opened on L Street SE in 2005, not 1995.)
*
American River Taxi
, which is working to begin boat service between Georgetown, the Southwest Waterfront, and Diamond Teague Park, is hiring
deckhands
and
captains
. No word on when they'll get underway.
* Work has started in the ground floor of 909 New Jersey for the new Harry's Wine and Spirits. Alas, their timeline for opening has slipped (as all construction timelines do), and the owners now have their fingers crossed that they will be open by Christmas.
Harry's 'Upscale' Liquor Store on Track for Fall Opening
Aug 23, 2010 5:21 PM
Today was the day that the city's Alcohol Beverage Control board was to have had its hearing on a liquor license for
Harry's
, the new "upscale wine and spirits" store looking to open on the
southwest corner of New Jersey and I, SE
, in the ground floor of
909 New Jersey
. However, there were no protests filed, so all systems would appear to be "go" for this store to open. I talked with one of the owners, and she told me that they are looking toward somewhere in October-November time frame to open, and that construction work should start to be visible within a few weeks, and some "Coming Soon" banners should appear before long as well.
I wrote in detail about
their plans for the store
a few months ago--the owners are the same people who currently own Capitol Hill Wine and Spirits in the 300 block of Pennsylvania Ave., SE, and previously they ran the Harry's liquor store that was in Waterside Mall until about five years ago. The hours would be 9 am to 9 pm Monday through Saturday (or possibly 10 pm on Fridays and Saturdays), and closed on Sunday. They would sell beer, wine, and liquor, as well as milk, sodas, juice, cheese, and other "quick stop" items, and are very much wanting to emphasize that this is going to be a "community" store, with higher-end products, wine tastings, and other offerings beyond what people normally think of when they hear "liquor store." This is a similar path to that being taken by the owner of the soon-to-be
Parkway Wine and Spirits
at Second and K (on the site of the late lamented
Little Red Building
), which is also looking to open by the end of the year.
Whether the neighborhood in its current incarnation (and size) can support both stores plus
Cornercopia
remains to be seen, although each store's location could be said to have its own "sphere": Harry's will be positioned to serve the foot traffic to and from Capitol Hill/Capitol South along New Jersey Avenue as well as the residents from the three I Street apartment buildings; Parkway will have the Courtyard guests, nearby office workers, and
Canal Park
visitors; and Cornercopia will have its existing loyal clientele as well as the ever-growing
Capitol Quarter
population (and also Capitol Hill foot traffic and Canal Park-goers).
Capper Hope VI Task Force Meeting; Harry's ABRA Hearing Date; Car Thief Captured
Jun 28, 2010 10:32 AM
A few bullets for a warm Monday:
* DCHA is holding a
Capper/Carrollsburg
Hope VI task force meeting on
Tuesday at 6 pm
at 400 M Street SE. The agenda includes an overall status report, an update on the (stalled)
community center
, outreach efforts to former residents, and a presentation on the community benefits fund. "Hope VI" refers to the $34.9 million HUD grant
awarded to DC in 2001
to replace the 700 Capper/Carrollsburg units with an equal number of new public housing units as well as another 800-plus market- and workforce-rate units, which has so far begat
Capper Seniors #1
,
400 M
, and
Capitol Quarter
, along with plans for another
five apartment buildings
and
two
office
buildings still in the pipeline.
* The Alcohol Beverage Regulation Administration has
officially posted the application
by Harry's of SE & SW to open a liquor store at New Jersey and I in the ground floor of 909 New Jersey. The hearing date is set for August 23, with any protests or other "petitions" needing to be filed by August 9 (happy birthday to me!). More about Harry's plans
here
.
*
Via Norm Metzger
, this from Saturday's PSA 105 meeting: "A suspected car thief was arrested near 3rd and K Street SE. Vigilant neighbors reported suspicious activity and were able to stop a crime in progress."
Agenda for June 14 ANC 6D Meeting
Jun 11, 2010 3:21 PM
The
agenda is now posted
for Monday's ANC 6D meeting, and it does have a few Near Southeast-related items on it. So it follows logically that I'm not going to be able to be there.
Items include: A report from the housing authority on a request for a zoning time extension for the planned (and long-delayed)
community center
at Fifth and K streets, SE; an update on the
upcoming second phase
of
Capitol Quarter
(which EYA tells me resulted in 11 reservations in the first 15 days); an update on the stadium
Traffic Operations and Parking Plan
, presumably coming out of the two recent
public meetings
; and reports/possible votes on Justin's Cafe's proposed sidewalk cafe and the proposed "Harry's" liquor store at New Jersey and I, both of which you can get more detail on
from my report on last week's ABC subcommittee meeting
.
The meeting is at 7 pm at St. Augustine's church at Sixth and M streets, SW--they're trying to get moved to their space in the new Waterfront buildings, but it still hasn't happened.
I'm going to try to find out more about the
community center
request, though I imagine there isn't much more to it other than DCHA says it doesn't still have the money to build it yet and so can't meet the deadline that was set in the zoning
PUD
(planned unit development) for Capper. The time frame for the community center
has already been extended once
, and in fact DCHA told the Zoning Commission last year that they fully expected that new deadline of filing building permits by Jan. 1, 2011, would be too short and that they'd be back to request another extension. Which appears to be what's transpiring.
Comments
(0)
More posts: 909 New Jersey,
ANC News
,
Capper
,
Capitol Quarter
,
Community Center
,
Restaurants/Nightlife
,
Harry's Reserve
,
Justins Cafe
,
liquor
,
meetings
,
Retail
,
Traffic Issues
,
zoning
Justin's Applying for Sidewalk Tables; Additional Info on the New Liquor Store (and the Little Red Building)
Jun 3, 2010 10:49 AM
The report from Wednesday night's ANC6D ABC Committee meeting:
* Justin's Cafe is seeking to add four tables, with umbrellas and four chairs each, on the sidewalk directly in front of the restaurant. They would be available the same hours as the restaurant itself, until 1 am Monday through Thursday, 2 am Friday and Saturday, and 10 pm Sunday. There were concerns from a commissioner or two about whether people might walk away from the outdoor seating area with alcoholic drinks, about the additional noise brought by 16 or so people outside, and about whether cigarette smoke from the tables would waft up and bother the Velocity units directly above. Justin Ross replied that a sign would be posted about alcohol only being consumed on the premises, and that smokeless ashtrays would be available for the tables (and that since people can't smoke inside the restaurant, there's already a lot of smoking going on outside on the sidewalk). Velocity's management had sent along a letter in full support of the plan.
The committee voted 4-0 in favor of recommending that the ANC support the application, and that vote should come at the ANC's June 14 meeting, if Justin's voluntary and community cooperation agreements are revised in time.
* The owners of Capitol Hill Wine and Spirits on Pennsylvania Avenue SE came to talk with the committee about their plans for
a new "upscale" liquor store
at 909 New Jersey Ave., SE, which they will be calling Harry's SE & SW. (For about nine years they ran the Harry's liquor store at Waterside Mall in SW, which closed about five years ago.)
They have signed a lease agreement to take the two retail spaces on the north side of the building, at the corner of New Jersey and I, and they will be knocking down the wall between them in order to end up with about 2,200 square feet of space. The hours would be 9 am to 9 pm Monday through Saturday (or possibly 10 pm on Fridays and Saturdays), and closed on Sunday. They would sell beer, wine, and liquor, as well as milk, sodas, juice, cheese, and other "quick stop" items, but would not sell sandwiches as had been mentioned on the meeting agenda. They hope to open in September or October.
Much of the discussion centered around whether they will try to get an exemption in order to allow sales of "singles," which is a very hot-button issue. The owners said that they want the exception so that they can sell "high end" Belgian beers, which come in single bottles, and have no intent to sell the cheaper singles that can attract a somewhat less desirable element. However, ANC 6D chairman Ron McBee said that he imagines it would be very difficult to get support from the full ANC for the exception, and that there would also be concerns about any attempts to amend the singles law that might make it look like the law was targeted toward one socioeconomic class and not another.
Also discussed was the possible impact of this new store on the long-held plans for a similar high-end liquor store at Second and L SE on the site of the "Little Red Building." The ABRA rules state that liquor stores can't open within 400 feet of each other, and these two would be more than 500 feet apart as the crow flies. But Mr. Park, the owner of the LRB, is clearly concerned about whether the neighborhood can support two very similar operations. He is moving forward with plans to demolish the LRB and put up a new structure, and is also looking at an October-ish opening date. (He said he'd send me the building plans soon.)
In the end, the committee voted 4-0 in favor of recommending that the ANC support Harry's license application. A voluntary agreement and a community cooperation agreement will now need to be hammered out, and those involved weren't sure if one could be ready by the June 14 ANC meeting, in which case it would probably come up at the July 12 one.
Comments
(13)
More posts: 909 New Jersey,
Alcohol/Liquor Licenses
,
ANC News
,
Restaurants/Nightlife
,
Harry's Reserve
,
jpi
,
Justins Cafe
,
Little Red Bldg/Lot 38 Espresso
,
meetings
,
Retail
,
Square 699n
Near Southeast Residents Demand a Grocery Store! (The More Things Change...)
Jun 1, 2010 8:49 PM
I'm just now coming across a Washington Post story entitled "Housing Area Pushing for Supermarket," which says that a group of residents "in a small triangle of Southeast Washington launched a 'supermarket project' yesterday to persuade a grocery chain to build a store in their neighborhood," with a planned petition drive looking to get 1,500 signatures.
But, of course, I'm yanking your chain, since this Post article is dated Dec. 16, 1965.
The group, the "Community Commitee Group," planned to visit the regional offices of Safeway, Giant, and Kroger to present the case that the residents of the area bounded by 8th, Virginia, M, and New Jersey had only two corner groceries, with the closest supermarket being at Seventh and G, SE, which was too far for the "aged who live in the Carrollsburg Dwellings project at Fourth and M." Also, because many of the residents in the area qualified for food stamps, they needed to be able to shop at a full supermarket, where the stamps would stretch farther.
The group "also hopes to interest a chain drug store and a combination dry cleaning-shoe repair shop to locate next to the proposed supermarket." Their suggested locations? "The west side of New Jersey Avenue between K and L Streets to replace some condemned buildings [
ahem
], the Washington Navy Yard parking lot on 2nd Street between M and I Streets [
ahem
], and the Lennox School annex at 4th and M Streets [
ahem
]."
In the meantime, while you're mourning the fact that no progress has been made in the brief 45 years since this article was published, you can think about another big development that Near Southeast missed out on: In the early 1990s the Federal Bureau of Prisons was looking for a location for a new 1,000-bed federal detention center, and one of the spots it considered was on the north side of I Street between South Capitol and New Jersey, the spot that's now home to the
Axiom and Jefferson
apartment buildings. And McDonald's. And Splash. (The other possible locations were in Northeast, but after battles with the National Capital Planning Commission and thanks to some pretty staunch opposition by city officials and residents, the Justice Department scrapped the plans in 1993.)
Liquor Store Coming to 909 New Jersey?
May 25, 2010 2:31 PM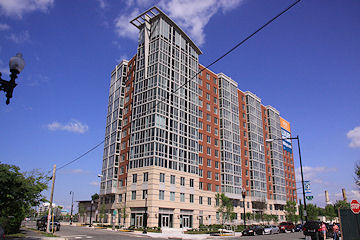 Some potential retail news might have just come onto the radar screen: on the agenda for ANC 6D's next ABC Committee meeting is a proposed Class A license at
909 New Jersey Avenue
for an entity called "Harry's SW & SE". They are proposing apparently to sell beer, wine, bread, milk, cheese, and sandwiches (and no "singles"), which is in line with a
Class A/liquor store license
. If anyone who lives at 909 has heard any rumors, or if anyone else has some scoop,
drop me a line
. I'm trying to find out more, and will update as I can. (Though the last time I started asking questions about a license application when one appeared on the ABC agenda was a few months ago for
55 M
, and it disappeared from the lineup almost as soon as I hit "send." So be forewarned.)
Also on the ABC agenda is a change to Justin's Cafe's license, with Justin now seeking to add a sidewalk cafe.
The meeting is on June 2 at 7 pm at King Greenleaf Recreation Center.
UPDATE:
There was a Harry's Liquor Store at 401 M St., SW back in the old Waterside Mall--I don't think it's reopened in the new building(?). I imagine this is the same owner.
UPDATE II: It is indeed the same owner as the old Waterside Mall store, and he also owns Capitol Hill Wine and Spirits in the 300 block of Pennsylvania Ave., SE.
Links Roundup (Evergreen Media Coverage, Justin's, Nexus Gold Club Memories, Marines Meeting Reminder)
Mar 23, 2010 9:46 AM
*
WBJ is first out of the gates
with what I expect to be an avalanche of whats-new-around-the-ballpark stories, tied to Opening Day and now a March staple for all DC media outlets. Nothing new in it, and a few quibbles (Justin's Cafe isn't open yet, the water taxis also ran late last year, Sayres lease is 20k), but I guess it's a decent quick roundup if you're not keeping track. Which, if you're reading this blog, you are. :)
UPDATE:
Ah, now I know where WBJ got the idea--the BID's
State of the Capitol Riverfront Spring Update
. Basically a straight copy-and-paste. (Not the end of the world, of course, but never a bad idea to be straight with readers about your sourcing.)
* Speaking of Justin's,
ABRA said yesterday
that there were no protests filed for its liquor license application. A reader reports that
Velocity
is telling residents that the restaurant will open April 16, but after watching rumored opening date after rumored opening date come and go for other places in the past, I remain skeptical of any rumor other than "it's opening tomorrow." (That isn't to say that the dates that get floated are necessarily propaganda--just that the final road to opening a business has a lot of potential pitfalls, especially in the permit process.) On the other hand, a reader passed along
an electronic version of the menu
, if you want to whet your appetite while waiting; though note that
the web site listed
hasn't launched yet.
* From
the Post
: the nude dancing license that used to belong to the Nexus Gold Club--on the site of what is now
909 New Jersey
--is now being rebirthed as the "
Stadium Club
," a strip club getting ready to open on Queens Chapel Road, NE.
* Don't forget that the second public workshop in the Marines'
project to build a new barracks
, focusing on potential development sites,
is tonight from 6:00 to 8:00 pm at Van Ness Elementary (1150 5th St., SE), with a repeat tomorrow from 8:30 to 10:30 am at the North Hall of Eastern Market.
The agendas are here
(and if you're trying to figure out how to get into Van Ness, the project web site says: "Enter through the main doors on the eastern side of the building (where the parking lot is) and follow the signs to the auditorium downstairs"). If the discussion going on
in this comments thread
is any indication, it's going to be an interesting meeting.
JPI East, Akridge Principals Form New Company
Jun 12, 2009 10:25 AM
From today's
Washington Business Journal
(subscribers only), news that Jim Butz and Greg Lamb of what was once JPI East have taken over what was left of that company (down to 22 employees from 380 a few years ago) and are partnering with Matt Klein and other principals at Akridge to create the Jefferson Apartment Group. Butz and Lamb "continue to hold a partnership stake in JPI [Multifamily]'s holdings," which includes
70 and 100 I
and
909 New Jersey
. The article says that Jefferson Apartment Group is "already targeting five properties" in DC, Philadelphia, and Boston, and "is in the early stages of planning and zoning new developments in Fairfax Count and Philadelphia," but doesn't mention what may be happening with
23 I
, the fourth JPI property in Near Southeast on the Wendy's site at Half and I.
Scads of New Photos: Bullpen, Fence-less Canal Park, 1015 Half, Capitol Quarter (Again)
May 10, 2009 6:02 PM
With thanks to Mom for decreeing that my Mother's Day responsibilities had been taken care of
last week
, I was able to take not one but two treks through Near Southeast on this beautiful Sunday, and have uploaded a pile of new photos. Some--like the ones I took at
909 New Jersey
and
55 M
--are the last ones I expect to take of certain angles for a long time to come, but I did get some good "change" shots: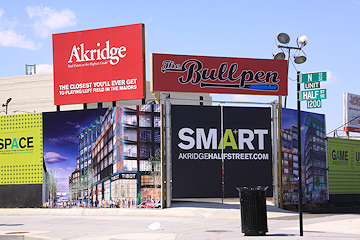 There's now a sign up at "The Bullpen" at
Half and N
(opening Friday?), and I also snuck a shot of the tent and piled-up picnic tables, which you can see on my
Akridge Half Street page
(scroll down a bit if the link doesn't jump you down). You'll also see updated shots of the garage-less Half and M corner.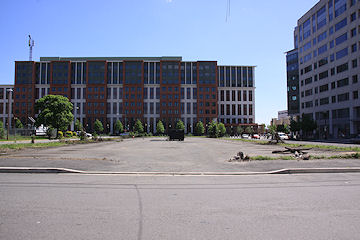 It's not very easy to take a picture that well-represents the lack of cyclone fences, but I gave it a shot with a
few
different
angles
of the south end of
Canal Park
. I have to admit that was I was surprised by how much wider the block now seems; when it becomes a real park, with tall buildings on all sides, that extra width will be welcome.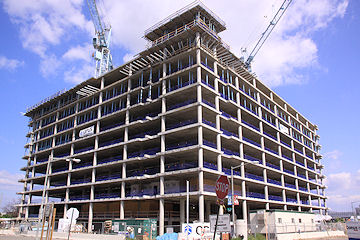 Next up is
1015 Half Street,
the 400,000-sq-ft office building now topping out on the old Nation nightclub site. With Half, K, and L being so narrow, it's not a bad idea to step back a block or two to see 1015's impact on the skyline, so check out the
Expanded Photo Archive
. The next phase of construction should be the hanging of the exterior glass.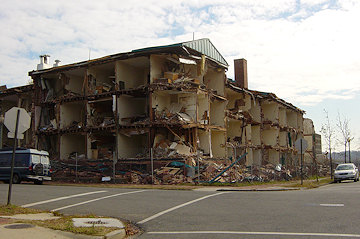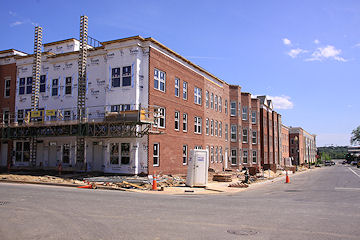 It's pretty hard to stay away from the goings-on at
Capitol Quarter
, as brickwork is all but complete along Fourth between I and K. The
Expanded Archive
shows all the CQ shots I took today, along with the ones from two weeks ago showing the first completed stretch of homes, on the south side of L between Fourth and Fifth.
You might also see a few new shots of
Onyx
,
100 M
, and
Velocity
if you visit those pages, and some other

images in the random shots at the top (and bottom) of the JDLand home page, since I took a pretty complete set of photos from New Jersey to Half and from M to I. And, without much new construction going on, I don't anticipate taking many photos other than at Capitol Quarter and 1015 Half (and I guess
Teague
and Canal parks) over the next few months. (I'll also be ready if/when Akridge demolishes the buildings
along First between K and L
.) So, enjoy these, and take the time to really compare them to their "befores."
New Photos: 909 New Jersey
Mar 22, 2009 9:31 AM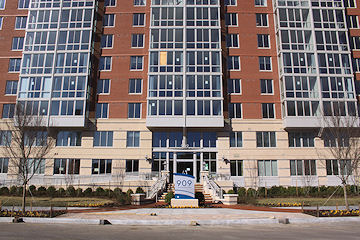 Part of my trek(s) on Saturday included getting a slew of updated photos of
909 New Jersey
, the 237-unit apartment building between I and K that's now all-but-completed. The landscaping is done, and the fences are down from most of the sidewalks--which will make baseball fans walking to and from the Capitol South subway station happy, I imagine. No word yet on any tenants for the ground-floor retail spaces.
FiOS Internet at 70/100 I (TV to Come)
Mar 4, 2009 12:07 PM
I didn't think it was actually news that
70 and 100 I Street
have FiOS internet, but
this announcement
today from Verizon could be read like it is. "Residents at two new apartment buildings in this city's revitalized Capitol Riverfront neighborhood now have access to Verizon's FiOS Internet, the most advanced broadband service available." Maybe the real lede is this: "The service also will be available this spring in a third building [
909 New Jersey
] currently under construction in the same neighborhood." As for the more desperately awaited FiOS TV service, no word on *when*: "JPI's buildings in Washington -- and other single- and multifamily residences throughout the District -- will also ultimately have access to Verizon's award-winning FiOS TV as the company rolls out the service over the next few years under a recently approved franchise agreement."
Scraping the Barrel for News
Feb 25, 2009 9:37 AM
I'm still here, though perhaps you can't see through the large tumbleweeds currently blowing across the JDLand.com landscape. There just hasn't been hardly any news of late, and in a strange way, the less news there is, the harder it is for me to carve out time from real life (where a couple big projects are consuming much of my time) to do the deeper digging. Plus, I'm on strike from taking photos until the weather gets warmer.
That being said, I can report (h/t to reader E. and the
55 M
construction cam
) that the new sidewalks around 55 M are starting to go in. There's also some utility work being done across Half at the
bus garage
to prepare for its demolition. The web cam also has a view of the back of the Red Porch restaurant at the
ballpark
, where I'm keeping an eye on when the
upgrades
might start to that space.
Speaking of sidewalks, there's some very nice public space work being done at
909 New Jersey
, with a combination of concrete and brick sidewalks being put in along New Jersey (along with the front steps to the building). And anyone who's been close to Near Southeast at night has now seen the blue lights that run along the top of the building's "bow." (They match the color of the lights on the Douglass Bridge.)
And
Capitol Quarter
framing work has now made the turn up Fourth Street north of L.
If the lack of news is bumming you out, you can always go back and read what was happening
this time last year
. It was *slightly* busier, as we were hitting the final weeks before the opening of the ballpark. Then again, if we go way back, to
February 2004
, I posted one entry for the entire month. (I'm just now realizing there's no easy access to the monthly archive of blog entries from the home page--but if you look down the right margin of any "interior" page on the site, you'll see the "Browse by Month" links.)
Groundbreaking at Diamond Teague on Friday; 909 New Jersey Soon; Occupancy Numbers; More
Feb 12, 2009 7:38 PM
* On Friday at 10:30 am the mayor will be hosting a groundbreaking at
Diamond Teague Park
; construction started back in December (photos on my
project page
from a few weeks ago show the piers and ramps around the pumphouse have already been dismantled). The timeline as described to me
at the end of January
is that the new piers are to be ready by Opening Day, with the landscaping and land-based improvements to be completed by July; we'll see if those dates are still operative at tomorrow's event.
* The
Capitol Riverfront BID
newsletter says that JPI's
909 New Jersey
is "set to open ahead of schedule in April." The "
909 at Capitol Yards
" official web site has floor plans and more information.
* Also from the BID newsletter (which isn't posted on their web site, otherwise I'd link to it), some occupancy numbers for the three buildings participating in this weekend's "
Luck of the Draw
" art extravaganza: Velocity has sold 52 of its 200 units (which is still right around the 25-percent mark reported
back in July
of last year);
100 I Street
is 25 percent leased (it was reported at around 16 percent leased in December), and
Onyx on First
is 27 percent leased (after having been 8 percent leased in December).
* The BID also has the
list of public events
over the next few weeks at the
Navy Yard
. (I used to be on a mailing list for these and would add them to my calendar, but that ceased a while ago and the
Navy Museum's own web site calendar
hasn't been updated since last year.)
Images and Updates from the Last Photo Trek of 2008
Dec 29, 2008 6:26 PM
I don't dare tally up how many photos I've taken over the past 12 months, but suffice to say it's a lot. That didn't stop me from a quick lunchtime trek around the neighborhood to grab my final pictures of 2008, with a starkly blue sky as an end-of-year gift. Here's a boatload of before-and-afters for your perusal: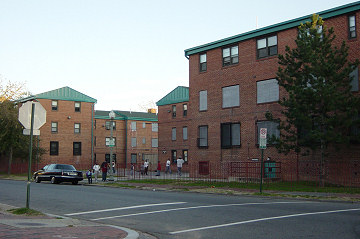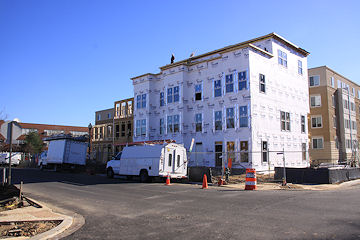 I started at
Capitol Quarter
, where the first three townhouses at Fourth and L are already framed, wrapped, and window'ed (I imagine the developers are trying to get those units finished as close to "on schedule" as possible). Here's the
before-and-afters for the intersection's southwest corner
; be advised that taking southward-facing photos in winter is no fun at all, so apologies for all glare, skipped angles, etc.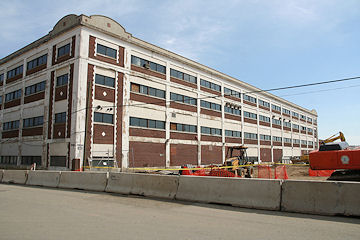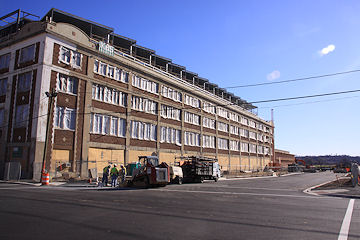 I next ventured to
The Yards
(USDOT security guards be damned!) for updated photos of the
Foundry Lofts construction
, where most of the framing of the two new top floors appears to be finished. And both Third and Tingey streets are now nicely paved and curbed, which you can see along with the Foundtry Lofts construction in these
Third and Tingey photos
, and also in shots from one block west, at what someday will be
Second and Tingey
. And, for the heck of it, here's a few new
New Jersey and Tingey images
. (Remember to look for the

icon, as always.)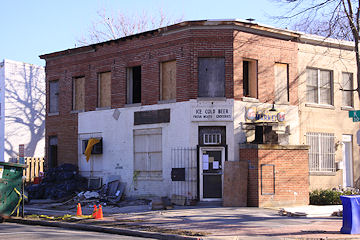 And, acting on tips from alert readers, I checked out the
Third and K Market
, which is now being gutted. There was no one around to answer any questions as to what is up, but seeing work getting done a few months after a For Rent sign went up (and quickly disappeared) would seem to be a good sign....?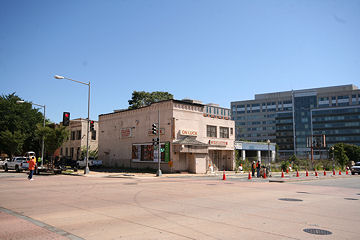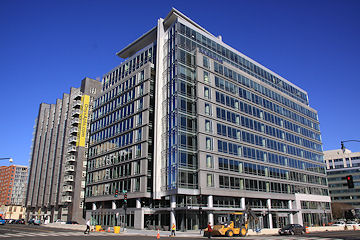 I also went to First and M, where workers at
100 M
have now given back one lane of M Street and told me that the median east of First will be rebuilt soon (as the one west of M recently was). The silver bullding against the unbelievably blue sky makes for a nice tableau
in these updated photos
.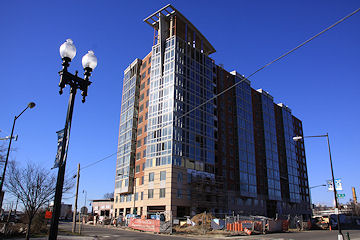 There are also a few updated shots of
909 New Jersey
, taken mainly from the
First and I intersection
, which is also notable for the nice little fence and landscaping that's now gone in across the empty lot to the east of
100 I
, visible in
many of these new photos
.
Will that tide everyone over until the new year? I know I'm now good for a while....!