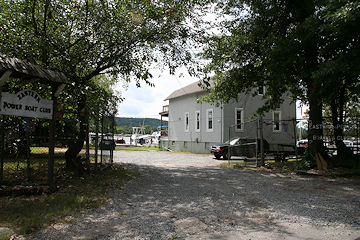 Back in August, I finally took a little time to drive down the practically hidden section of Water Street east of 12th to get some photos of Boathouse Row, the stretch of marinas between the
11th Street Bridges
and Pennsylvania Avenue's Sousa Bridge. Of course, all I really got were photos of their entrances (I'm way too shy to have actually driven in), but even pictures of their gates and signs are probably of interest to most people who've never taken this particular field trip.
A mere three months later, I've finally posted them on a revamped
East M/Boathouse Row
page, where there first are photos of the Anacostia Community Rowing Center, followed by the new images from further up Water Street. (I also tinkered a bit with my main
East M page
.) Of course, as I'm writing this I'm realizing that it would probably be even better if I went across the river and took photos of the row from Anacostia Park--I'll add that to my To Do list.
There's actually
a Master Plan underway for Boathouse Row
by the Office of the Deputy Mayor for Planning and Economic Development and the Office of Planning. By doing this, " the District seeks to provide upgraded public facilities, improve environmental conditions, preserve existing functions and utilize remaining land to enhance and expand boathouse, marina, dock and water recreation uses." The DMPED info page on the
Master Planning Process
has a lot documents with much detail from the public meetings that were held over the summer and
on Oct. 2
(which they don't seem to do a very good job of advertising, because I never heard about them). A handout from last week's
Anacostia Waterfront Information Fair
says that the Draft Master Plan is expected to be released by the end of this year (and I'm hearing there will be a public meeting in mid-December); the
Oct. 2 meeting slides
give a good summary of the plan alternatives being considered (and there's additional info on those
here
), along with long-range visions for the area.
In
yesterday's wrap-up
of the
Performance Parking
meeting, I mentioned how the program wasn't yet "operating in the black," because of the substantial cost of putting in the meters. However, I've been gently reminded that the
legislation that created the pilot
spells out that, initially, 60 percent of the program revenue will be put toward the repayment of the cost of the meters, with 20 percent of the revenue to be used "solely for the purpose of non-automobile transportation improvements in the zone." (The other 20 percent goes to the DDOT's operating fund.) This means that there will already be some dollars available at the end of 2008 toward improvements.
In a few years, once the meters are paid in full, only five percent of the revenue goes toward meter and signage upkeep in the zone, and 75 percent goes to non-automobile transportation improvements in the zone, such as bike racks, sidewalk repair, etc.