Near Southeast DC: Past News Items
Van Ness Elementary
Go to Full Blog Archive
---
18 Blog Posts Since 2003
Budget News Pt. 2: Van Ness Elementary Modernization Funds
May 11, 2013 9:55 AM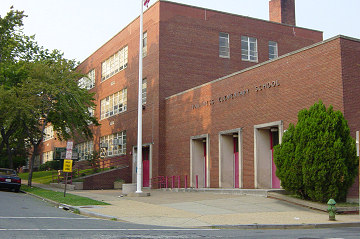 Via
Charles Allen
, news that is music to the ears of the parents who have been hoping for a reopening of Van Ness Elementary School at 5th and M,
shuttered since 2006
: on Thursday, the DC Council's Committee on Education approved the DC Public Schools budget, and it includes $9.8 million for modernization, which is "consistent" with a plan to reopen Van Ness for the 2015-16 school year.
In a letter shared with the "Parents on the Capitol Riverfront" mailing list, DCPS's COO Anthony deGuzman described what will come under this plan: "The Phase 1 modernization focuses capital funds on renovating academic spaces (classrooms) where we upgrade lighting, acoustics, technology, ergonomics/furnishings, and climate/air quality. Additionally front entrances, front offices, corridors, and student restrooms are targeted. Other building upgrades are evaluated on an as needed basis."
The letter goes on to say that the community will be asked to be involved in the planning process along with school administrators and staff, on a team called the School Improvement Team, which will be "formally convened just prior to when the funding will be available which is this case would be towards the end of the summer of 2014." deGuzman also says that the SIT has a "great deal of influence over priorities, aesthetics and whether the design is meeting the programmatic needs of the school."
Neighborhood parents have been working
since 2010
to get the school reopened--you can read more about what's been going on during Van Ness's years in the wilderness in
my previous blog posts
.
Comments
(7)
More posts: Van Ness Elementary
Van Ness Elementary Apparently Still on Track For 2015 Reopening
Jan 17, 2013 8:02 PM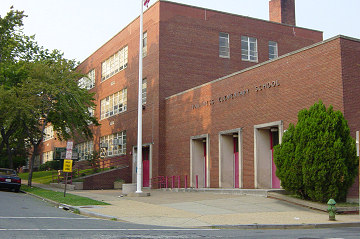 As part of a
release outlining the impacts on Ward 6
of today's
School Consolidation Plan
announced by DC Public Schools Chancellor Kaya Henderson, Tommy Wells said this:
"The Chancellor again committed to reopening Van Ness Elementary in near Southeast for the 2015-16 school year and expects to share further details of the academic curriculum and planning later this year."
No details beyond that morsel, but it should be welcome news for the parents of the neighborhood, who long for an elementary school close by. Van Ness, at 5th and M SE,
has been closed since 2006
, as the number of neighborhood school-aged children dwindled with the closing of the
Capper/Carrollsburg
public housing project to make way for the mixed-income
Capitol Quarter
townhouse development.
Comments
(1)
More posts: Van Ness Elementary
DCPS Nixes Idea of Bringing School Within School to Near SE
Jan 19, 2012 3:16 PM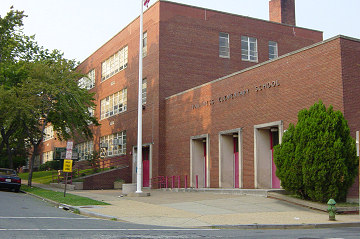 While there has been lots of news over the past few months about Near Southeast getting some of the amenities that it has lacked for a long time (restaurants, grocery), one service that the neighborhood continues to be without is an open elementary school within walking distance. DC Public Schools
closed Van Ness Elementary
at 5th and M SE back in 2006 because of a lack of school-aged children in the neighborhood thanks to the emptying of the
Capper/Carrollsburg
public housing project in advance of its reconstruction as
Capitol Quarter
, but kept the building in its inventory knowing that eventually the neighborhood would fill back up and a school would again be needed.
Fast forward a few years, and the neighborhood now has a number of families with small children, who get to look at unused Van Ness every day while sending their children across South Capitol Street to Amidon/Bowen Elementary in Southwest. So the Parents of the Capitol Riverfront organized themselves to
advocate for getting Van Ness reopened
, and put together
a "delightful" public meeting
with then-interim chancellor Kaya Henderson. But DCPS
announced last March
that the numbers didn't yet support the reopening of Van Ness, saying that it was most likely the school would not reopen before 2015.
But area parents have continued to try to find a solution, and when word got out a few months ago that the well-regarded
School Within School
at Peabody Elementary was looking to expand its program and would need a new and larger space, Near Southeast parents began to investigate what it might take to get SWS into the neighborhood, whether in the Van Ness building or in some other solution, perhaps even using the modular classrooms (i.e., trailers) that Capitol Hill Day School has been occupying at 5th and K during its building's renovation.
But today a statement from Henderson being sent out to various neighborhood mailing lists seems to put the kabosh on this movement. While the notion of using the CHDS trailers is "an interesting one," Henderson says that school system "already has too many schools that are too small to sustain themselves," and so it would be a "poor stewardship of the public's resources" to pay rent to put SWS in trailers or wherever if there are already a number of available facilities that could be used. Plus, those other facilities are located where placing SWS "could have an equally or potentially greater positive impact."
The statement doesn't specifically explain why Van Ness itself is not an option to house SWS, and perhaps someone who's been close to the many meetings that parents have apparently had with DCPS could explain that in the comments. It seems to still boil down to the neighborhood just not having enough students to support a school, whether it's SWS or a "normal" elementary school. Van Ness is currently home to some administrative offices, plus needs what has been rumored to be a couple million dollars in renovations to get it ready, and it does appear that DCPS is holding fast to its previous ruling that Van Ness won't be back in the system before 2015. But it's also not hard to imagine that neighborhood parents will continue to try to get a school, any school, as soon as they can.
Comments
(0)
More posts: Van Ness Elementary
Van Ness Elementary to Remain Closed a Few More Years
Mar 1, 2011 8:36 AM
At a meeting Monday night, DC Public Schools announced that, despite the hopes of the parents of small children who have moved to Near Southeast, Van Ness Elementary will remain closed for a few more years, perhaps opening by the 2014-15 school year. I wasn't at the meeting (was watching McEnroe, Lendl, Sampras, and Agassi at Madison Square Garden), but I can pass along the handout from the meeting (page
one
and
two
) that provides the rationale and data behind the decision.
The next open question is whether DCPS will expand the boundaries of Tyler Elementary at 10th and G SE to allow Near Southeast children to attend, rather than continuing to send them to Amidon-Bowen in Southwest, a situation which has many parents unhappy. Also, parents' groups have meetings scheduled with various city officials in the coming days to discuss the situation.
Sorry this is brief; if you were at the meeting, please feel free to use the comments to highlight anything said that isn't in the handout. You can also
read my previous Van Ness entries
for more background.
Pre-Monday Tidbits (Van Ness Meeting Reminder, Links)
Feb 28, 2011 9:47 AM
* I imagine most interested parties do not need to be reminded that tonight at 6 pm at 900 5th St. SE is the meeting with DCPS to find out what they plan to do with
Van Ness Elementary
. With laser-like precision, they picked a date when I absolutely can't be there, so anyone who wants to pass along the news as it's happening, please do. (I will be keeping an eye on Twitter.)
And, two recently
Tweeted
links that might be of interest:
*
The Yards
was named
one of Five Projects that Will Transform Washington
by the Washington Business Journal. "When completed, the neighborhood may finally achieve L'Enfant's vision for a bustling center of activity on the waterfront."
* The
DC Fiscal Policy Institute takes a look
at the possible
$8 million tax break
to bring Whole Foods to New Jersey Avenue, asking "why it makes sense for the District to continue putting money into an area that has seen tremendous public investments and is already on the cusp of development" and why the project would require a special subsidy to move forward, since they say that "Whole Foods already would qualify for a set of tax incentives on grocery-store development, including a 10-year property tax break on the store itself."
DCPS to Announce Decision on Van Ness Reopening on Feb. 28
Feb 23, 2011 9:38 AM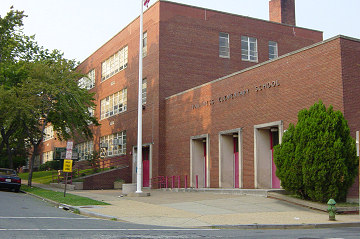 DC Public Schools has scheduled a public meeting on Feb. 28 to announce its decision on the reopening of
Van Ness Elementary School
. Parents were already told
back in December
that the school won't reopen for the 2011-2012 school year, but residents hope that DCPS could decide to get the school back online for fall 2012.
If the school isn't going to be reopened in the near future, there might be the possibility of expanding the boundaries of Tyler Elementary (at 10th and G SE) to allow Near Southeast children to go there, rather than to Amidon-Bowen in Southwest, their current assigned school. (I don't know whether a decision on that would be announced at this meeting.) The meeting is at 6 pm at the Arthur Capper Seniors building at 900 5th St., SE. You can
read my previous posts
on Van Ness for more information.
ANC 6B Supports Beer Garden Liquor License, Van Ness Elementary Reopening
Jan 12, 2011 1:22 PM
At Tuesday night's ANC 6B meeting, two south-of-the-freeway issues were voted on (remember, the section from 7th Street to M Street eastward is 6B04, not 6D07):
* By a 7-3 vote, 6B will now support the liquor license application by the Bavarian Beer Garden at 8th and L streets, SE, provided the Voluntary Agreement hammered out by 6B and BBG is approved by ABRA. (
Back in December
, 6B had voted to not support/protest the license until a VA was agreed to.) Under this agreement, the beer garden's overall hours of operation will remain from 11 am to 1 am Sunday through Thursday and 11 am to 3 am Friday and Saturday, but there are now slightly amended hours for entertainment. Entertainment indoors is approved from noon to midnight on Sundays, 6 pm to midnight Monday through Thursday, and noon to 2 am on Fridays, Saturdays, and holidays. Hours for "summer garden entertainment and dancing" are from noon to 11 pm Sunday, Tuesday, Wednesday, and Thursday, and 11 am to 1 am on Fridays, Saturdays, and Holidays, with none allowed outdoors on Mondays.
Kirsten Oldenberg, the 6B04 rep in whose single-member district the beer garden will be located (and who
now has a blog
!), expressed lingering concerns about allowing a tavern license in this location, while David Garrison reminded the meeting that there are residences on 7th Street whose backyards will be directly across from the outdoor garden. Norm Metzger mentioned that this establishment doesn't exactly fit in with the ideas for revitalizing the area as seen in the
Lower 8th Street Visioning Draft Report
. But despite the concerns, the liquor license application will be moving forward, with only new 6B chairman Neil Glick, Garrison, and Metzger opposing.
The commissioners still have not been shown any designs for the beer garden; however, while the lot's co-owner, Mark Brody, told the commission
last month
that he planned to build a temporary structure as quickly as possible with a permanent building coming (perhaps) in a few years, it's now been determined that since the block is in the Capitol Hill Historic District a temporary building is not allowed. So there will have to be a "real" building, and its design will be subject to historic review by all applicable organizations before it can move forward.
* New 6B02 rep Ivan Frishberg brought to the commission
a draft letter to DCPS
in support of reopening
Van Ness Elementary
, since interim chancellor Kaya Henderson
said last month
that the school system is "committed" to making a decision on the school this month. There was a lot of discussion, and a lot of questions brought up by David Garrison about the boundaries of the school, how it might impact the schools on the Hill, costs to get the school reopened, and more, but in the end the commission voted to approve the letter. (
I *think* the vote was 7-2-1, but am trying to get it confirmed.
)
UPDATE:
Oops. The vote was 9-0-1.
UPDATE:
Here's another wrap-up of the meeting from
The Hill is Home
, who could hear what was going on a lot better than I could....
Abbreviated Update from the Van Ness Meeting
Dec 8, 2010 8:10 PM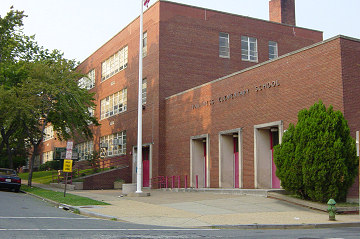 Tonight the interim chancellor of DC Public Schools Kaya Henderson met with a large and very involved group of parents (and a lot of toddlers, some of whom showed off their impressive lung capacity) who want to see Van Ness Elementary reopened.
DCPS told those assembled that it is committed to making a decision on Van Ness in January, and that the decision will be based on "whether the numbers work out," both in terms of whether there are enough school-age children to support the school and whether the economic realities of a budget-crunched city government can get scarce dollars shuffled to pay for getting the school reopened (which would require taking money from other schools that are in need as well). DCPS handed out
an information sheet
with some numbers in terms of children in the area and enrollment at nearby schools--I'm going to plead injury (thumb. ow.) and let you read it instead of summarizing.
Henderson mentioned many times the "positive energy" DCPS feels from the parents of the neighborhood, who clearly want a school opened immediately. There is no chance that Van Ness will open for the 2011-12 school year, the room was told, but one idea DCPS is looking at is possibly redrawing the boundaries for Tyler so that some of the Near Southeast children who live closer to Tyler than to Amidon (which is in Southwest) could go there. (One parent responded to this by saying that they hoped that all of Near Southeast could be included in a Tyler boundary redrawing "to keep the community together", and it's clear that many parents are not big fans of sending their kids to Amidon.)
At the end of the meeting, Tommy Wells said that with Van Ness in pretty good shape, capital funds shouldn't be a barrier to getting the school reopened if the necessary enrollment numbers are there. (Earlier, it had been announced [first by meeting organizer Bruce darConte and then a company representative] that EYA is pledging to undertake "buff and scrub" renovations at Van Ness if it'll help get the school reopened.)
Other than these items, the meeting was basically a "listening session," to allow parents to tell DCPS (again) their priorities and concerns. At the risk of being flip, I think I can boil it down to this: parents (and parents-to-be) in Near Southeast want Van Ness reopened. But it was a very collegial session--Henderson called it "one of the most delightful meetings I've been to."
So now the residents will wait to see what DCPS tells them---whether the school could reopen in 2012, or whether the numbers aren't quite there
yet.
It seems clear that DCPS expects Van Ness to reopen eventually--it's just a question of whether the timetable they come up with will be disappointing to the community.
[If this is less than complete, I apologize--I have to stop typing, I'm dying here! Feel free to use the comments to fill in what I didn't cover. You can also see
Tommy Wells's tweets
from the meeting for more.] For more background,
browse my previous posts
.
UPDATED to fix my Tyler/Brent mixups. As a non-parent, they're all the same to me. ;-)
Comments
(17)
More posts: Van Ness Elementary
Upcoming Calendar of Events (Through Dec. 17)
Dec 6, 2010 10:46 AM
This is a painful post for me to write. (No, seriously--I hurt my left thumb last week, and typing doesn't help.) But I will power through to bring you news of upcoming events, all while wondering why Decembers are always so busy with public meetings--because it's not like we don't we have enough to do already....
ADD:
Oops. Tonight (Dec. 6) is the 4th Annual
Livable Walkable Community Awards
, at Arena Stage at 6:30 pm.
* Tuesday (Dec. 7) is the second
Marine Barracks site search
public forum, in Eastern Market's North Hall. I can't find the agenda for it, but the CIMP web site describes it thusly: "Session 2 will begin with at 5:00 pm with an open house where information will be provided in displays, and subject matter experts will be present to discuss various aspects of the CIMP with a facilitated discussion to authenticate community development objectives to begin at 7:00 PM." You can see the
draft community objectives
handed out at last week's meeting, and read
my summary of that session
, as well as the
scads of posts
through the past year of this process.
* Wednesday (Dec. 8) is the neighborhood meeting with DC Public Schools interim chancellor Kaya Henderson on the movement to reopen Van Ness Elementary at 5th and M, SE. The meeting is at 6 pm (note the time change) at the Courtyard by Marriott at New Jersey and L, and while no decision on reopening the school will be announced, DCPS will be talking about the preliminary findings from the survey they did this fall about whether there would be enough students to justify reopening the school. Read my
previous posts
for details.
* On Thursday (Dec. 9) the ANC 6B ABC Committee will
meet at 7 pm
at the Southeast Neighborhood Library at 403 7th St., SE, and it will be taking up the new liquor license application for the
Bavarian Beer Garden
at 8th and L, SE. It's looking to be a 99-seat tavern, with an additional 200 outdoor seats in summer, and would operate from 11 am to 2 am Sunday through Thursday and 11 am to 3 am on Fridays and Saturdays. There's also apparently the possibility of live entertainment. The application will also be taken up by the full ANC at its
regular meeting
on Dec. 14 at 7 pm at 535 8th St., SE.
* Monday (Dec. 13) is ANC 6D's monthly meeting--the
agenda
should be out later this week.
* Tuesday, Dec. 14 is the
BID
's Annual Meeting, at 11:30 am at 100 M St., SE. There will be a keynote address by George Hawkins, general manager of DC Water, plus the BID will release its 2010 Annual Report and State of the Capitol Riverfront.
* The BID also launches its Holiday Market on the 14th, running daily through the 18th on the sidewalk outside of 1100 New Jersey Ave., SE, across from the Navy Yard Metro station. "Shop the market for wool sweaters and mittens, homemade soaps, jewelry, antique maps, wreaths and holiday greenery, paintings, and much more!"
See the flyer
for more details, or the latest
BID newsletter
.
* Also on the 14th is the aforementioned
ANC 6B monthly meeting
, which includes a report by Michael Stevens of the BID on the Lower 8th Street Visioning Process report that's being submitted to the Office of Planning. (This will also be presented to the ANC's Planning and Zoning Committee on Dec. 7 at 7 pm at 535 8th St., SE.)
* Finally, on Dec. 17, the James L. Brooks movie "
How Do You Know
" opens--this is the one that was filmed at
Nationals Park
(and all around DC) back in 2009, and stars Reese Witherspoon, Owen Wilson, Paul Rudd, and Jack Nicholson.
Ow.
Meeting with DCPS Interim Chancellor on Van Ness Elementary School Scheduled for Dec. 8
Nov 8, 2010 7:08 AM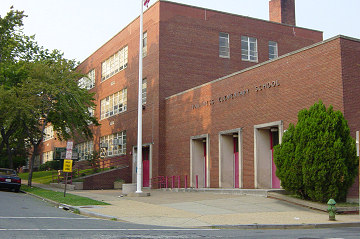 Most parents probably already know this, but a meeting has been set up
by the Parents on the Capitol Riverfront group
with Kaya Henderson, DC Public Schools' interim chancellor, to discuss the future of Van Ness Elementary. Henderson will be there to talk about the results of the survey that was done back in September to gauge the potential pool of students for a possible reopening of the school, and there will also be a question-and-answer session. It's scheduled for Dec. 8 at
6:30
6 pm at the Courtyard by Marriott at New Jersey and L, SE.
As I wrote
a few weeks back
, the parents group has been told by DCPS that, in order for a viable elementary to be opened (grades Pre-K3 though 5), it needs to have 250 students. The group says that they've been told that "it might be possible to phase in the school, starting with Pre-K3, Pre-K4 and Kindergarten for the first couple of years and then slowly expanding up through 5th grade," so they are trying to determine exactly how many school-aged children are in the neighborhood, along with possible projections of how many more might arrive over the next five years. They are also looking at whether a large number of parents currently on the waitlist for Brent Elementary might be willing to send their children to Van Ness out-of-boundary, to help increase the number of potential students.
UPDATE
because of some confusion as to who exactly set up the meeting.
UPDATE II to note the start time having been moved to 6 pm.
Comments
(3)
More posts: Van Ness Elementary
Parents Group Trying to Get Van Ness School Reopened
Sep 12, 2010 4:21 PM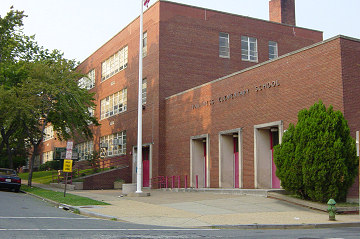 A group of neighborhood residents organizing as "
Parents on the Capitol Riverfront
" have come together over the past few months to lobby the DC public school system and city officials to consider reopening Van Ness Elementary School, which was
caught up in the DCPS downsizing
at the end of the 2006 school year, after most of its student body moved away with the closing of
Capper/Carrollsburg
. Elementary school-aged children who live in Near Southeast are now in the boundaries for Amidon-Bowen Elementary School across South Capitol Street in Southwest, which is a bit of a hike from locations like Capitol Quarter.
In a recent e-mail to me, representatives of the group explained their motivation: "A quality school is not only good for the kids, it's a necessary amenity for retaining existing and attracting new residents to our neighborhood. We love our neighborhood and are dedicated to living in DC, but that dedication rests upon the opportunities available for our kids. The amazing Canal Park planned for the neighborhood is great and will be well-used by kids and adults alike, but it takes a school to keep the community of families here."
Over the past few months, the group has met twice in small targeted meetings with Michelle Rhee, as well as with Tommy Wells, and are working to get another meeting scheduled with Rhee that could include all neighborhood parents. There is also apparently a survey from DCPS being distributed by e-mail regarding Van Ness and the number of children in the area, and the parents' group is wanting to be sure that the survey gets to everyone with kids.
DCPS has told them that, in order for a viable elementary to be opened (grades Pre-K3 though 5), it needs to have 250 students. The group says that they've been told that "it might be possible to phase in the school, starting with Pre-K3, Pre-K4 and Kindergarten for the first couple of years and then slowly expanding up through 5th grade," so they are trying to determine exactly how many school-aged children are in the neighborhood, along with possible projections of how many more might arrive over the next five years. They are also looking at whether a large number of parents currently on the waitlist for Brent Elementary might be willing to send their children to Van Ness out-of-boundary, to help increase the number of potential students.
The parents' group now has
a Google Group set up
, where any interested neighborhood parents can request membership.
The school's location at 5th and M, SE, is one that has been being eyed for a while by various interested parties, and there have been talks in the past about perhaps selling the land with a requirement that the purchaser build a new school close by. Another discussed option has been co-locating a new school building with the long-delayed
Capper Community Center
. And the Marines have also been looking at the school's land, either as part of their space needs for the new barracks or as a place where other landowners (like the Housing Authority) could relocate planned uses if the Marines were to take their land for the barracks.
The original Van Ness Elementary School, on M Street between 3rd and 4th, opened in 1909, and was for much of its life a segregated school for black children. (You can see it at far right in
this photo from 1939
.) It was replaced during Integration by the current building at 5th and M in September of 1956, although the old school building at 4th and M (eventually known as the Lenox Annex) remained on the city's property rolls under varying uses. In the 1970s it was a special education school, then an adult education center in the 1990s, but finally the building was demolished in the late 1990s for what has since become the 300 M Street SE office building.
Hot New Recreation Spot: Lincoln Capper Kiddie Pool
Jun 2, 2010 10:54 AM
With many thanks to reader S. for doing all of the legwork on this, I'm passing along the news that neglected the three-foot deep pool on L Street SE between Fifth and Seventh (between Van Ness Elementary and the parking lot that was once
Old Capper Seniors
) has been renovated, and is now open as the
Lincoln Capper Children's Pool
. The
DC Parks and Recreation web site
has the hours, which are noon to 6 pm on Saturdays and Sundays until June 20, and then 11 am to 5 pm Mondays through Fridays from June 21 through August 20. It may not be as swinging as the scene at the
Capitol Skyline Pool
, but for parents looking to dunk their children (I mean, get their children some swim time), it's a nice addition to the neighborhood tableau.
Quick Notes: Bowl Game at the Ballpark?, School Closings, More
Nov 29, 2007 8:58 AM
A few quick items not earth-shattering enough for their own entries:
*
The Post reports
that there is a group trying to launch a "Congressional Bowl" college football bowl game, where one of the teams would be a service academy, and which would be played at either RFK or
Nationals Park
. The NCAA should give its answer in May of 2008.
* In a story mentioning the problems being encountered by cities trying to sell municipal bonds because of the "credit crunch" mentions that DC's "A" rating means it is probably going to have to pay a higher interest rate on a $350 million bond issuance next month that will fund, among other things, the rebuilding of the
11th Street Bridges
, though the city locked into a low interest rate on the $355 million bond issued last year for the
ballpark
.
* None of the
24 DC schools proposed for closure
in the mayor's plan are in Near Southeast (Van Ness Elementary School
closed in 2006
), but I'll note that Southwest's Bowen Elementary is on the list, which brings to mind the continued wrangling over the fate of the move of the MPD First District police station off its current location in Southwest to allow for the construction of the new consolidated crime lab. At
various
times
this fall, there has been discussion about 1D moving to a school building in Southwest (after plans to move them to the Post Plant at
225 Virginia Ave. SE
fell through) and perhaps Bowen's closure clears the way for this.
UPDATE:
Oops, I missed that Phil Mendelson is quoted about the Bowen closing in
today's Washington Times
, wondering whether Bowen was picked to be closed because it needs to be, or because the city wants to put MPD there. (Though I remember hearing talk of either Bowen or Amidon as possible closures long before the MPD question.)
* My
Ballpark and Beyond column this week
talks about the opening of
400 M
(Capper Building #2), the
rash of stolen cars
, and the
ballpark liquor license application
.
* One more addition: The DC Sports and Entertainment Commission is asking the city council for more money, says
the Post
, because its budget will suffer thanks to the move of the Nats from RFK to South Capitol Street, thanks to the loss of the $2 million a year that the Nats were paying to the DCSEC for renting RFK. The team will pay $5.5 million in rent at the
new ballpark
, but that money will go toward paying off the construction bonds.
Capper/Carrollsburg Groundbreaking (and Capper Background)
Jun 24, 2007 10:30 AM
The DC Housing Authority is having a
groundbreaking ceremony
on Tuesday (June 26) at 11 am for the first phase of the
Capper/Carrollsburg
mixed-income townhouses (i.e.,
Capitol Quarter
), at 4th and L by the EYA sales office. This isn't a signal for the actual start of "vertical" construction, though--that won't begin until later this year.
And maybe this makes for a good time to have a
refresher
on what exactly "Capper/Carrollsburg" is:
In 2001, DC
received a $34.9 million Hope VI grant
to redevelop the 23-acre 700-unit Capper/Carrollsburg public housing project as a mixed-income development, replacing every one of the low-income units and then adding to them another 700-plus market-rate and workforce-rate rental and ownership units. The redevelopment project is being handled as a joint venture by
Forest City Washington
,
Mid-City Urban LLC
, and the Housing Authority.
The
townhouse
portion of the redevelopment, being marketed by
EYA
as Capitol Quarter, will have approximately 121 market-rate and 91
"workforce"-rate
ownership houses; an additional 65 townhouses will contain 111 subsidized rental units and Section 8 ownership units. The market-rate houses are already being made available for reservations in monthly blocks, with the attendant
tent cities popping up
at the sales center as hopeful homeowners stake their claims. There was a lottery back in 2006 for the first 20 workforce units; I imagine another will be coming before too long.
Three hundred low-income rental units have already been completed (or are about to be) as part of the new
Capper Seniors #1
and
Capper Building #2
projects. The rest of the public housing rental units will be included in
four mixed-income apartment buildings planned
along
Canal Park
, three on the eastern side of the park between 2nd and 3rd and I and M, and a fourth on the site of the DPW Trash Transfer lot at New Jersey and K. None of these are anticipated to start construction before 2010, so in the meantime,
temporary surface parking lots
will soon appear on those blocks to help ease the expected
Nationals stadium
parking crunch.
Additionally, 700,000 sq ft of office space will eventually be built within the Capper redevelopment area;
250 M Street
is a 190,000-sq-ft joint venture between
William C. Smith
and the DC Housing Authority, and although it now has all of
its zoning approvals
, we just learned
a few days ago
that Smith is going to wait until the building is 30 percent leased before beginning construction. There will eventually be another 500,000 sq ft of office space developed at 7th and M on the site of the
old Capper Seniors building
(itself scheduled to be demolished late this year), but with no current timetable for that project a temporary surface parking lot is coming to that site as well. There will also be another 30-45 townhomes built along L Street behind these new office buildings, but those are a long ways off.
Topping it all off, a new 28,000-sq-ft
community center
is planned at 5th and K, replacing the one demolished earlier this year. It could start construction in 2008, but those plans might change if, say, a developer or the Housing Authority manages to snag from DCPS the Van Ness Elementary School site at 5th and M, which
was closed in 2006
and is now administrative space. A new elementary school could be then constructed to serve families as they move into the rebuilt Capper neighborhood, and the community center could be part of the school rather than being a standalone project. But with the changes in the structure of the public schools' governance, who knows when any decision like this could happen, if at all. Just some Sunday morning speculation for you.
(This info has all been available on my
Capper overview page
, but it's good to get it out front once in a while.)
(Apologies for the posting delays, which will continue for about another week) The DC school board has approved the superintendent's plan to close Van Ness Elementary, at 5th and M SE, as part of the plan to shrink the school system's unused space (see the
short Post story
on the vote). You can read my previous entries on the Van Ness closure
here
and
here
.
In what shouldn't be a shock at this point, the superintendent of the DC public schools has recommended that Van Ness Elementary be one of six schools to be closed by August, according to the Post ("
D.C. Will Close Six Public Schools
"). The 90 students that are currently at Van Ness (in Head Start and special-ed courses) would be moved to Prospect Elementary. The school board will hold public hearings on the plan and take a final vote June 28--you can see the
Superintendent's Recommendation Report
for more information. But keep in mind, as I mentioned in
a previous entry
: "However, as school board member Tommy Wells explained, the city won't be selling school properties, and the feeling is very strong that an elementary school must remain in Near Southeast. Given that Van Ness's M Street location could be enticing to developers, it's possible that the city would agree to a swap, to have a new Van Ness built somewhere else in the neighborhood in exchange for a developer getting rights to the 5th and M lot."
Also at the ANC meeting tonight, there was a discussion about the DC Public Schools' upcoming plan to close/repurpose as much as 3 million square feet of school space over the next two years.
Van Ness Elementary
at 5th and M is unofficially considered to be very high on the list--although it had 400 students a few years ago, with the closing of
Capper/Carrollsburg
it now services just 30 Headstart Pre-K students and 48 Special Ed students from around the city. However, as school board member Tommy Wells explained, the city won't be selling school properties, and the feeling is very strong that an elementary school must remain in Near Southeast. Given that Van Ness's M Street location could be enticing to developers, it's possible that the city would agree to a swap, to have a new Van Ness built somewhere else in the neighborhood in exchange for a developer getting rights to the 5th and M lot. A plan to identify 1 million square feet of DCPS space that could be closed/repurposed is due to the school board on May 17, after which there will be a 30-day period of public input meetings (there are also
public forums
on April 18 and 22). For more information, see the
DC Board of Education
web site, in particular the
rightsizing criteria
and
calendar
.
Van Ness Elementary School, at 5th and M streets SE, is apparently on the city's list of approximately 30 schools it wishes to close by August 2008 as part of a financial restructuring of the DC Public Schools. I'm guessing that a developer or two might be willing to pay the city a tidy sum for the rights to that property on the southern edge of
Capper/Carrollsburg
.... Here's a
Post story
from a few days ago about the school closures initiative in general; and a
Voice of the Hill blurb
about Van Ness's principal going before ANC 6D looking for a letter of support for keeping the school open (the ANC wants more information before making a decision). The city is expected to make its decision in April.