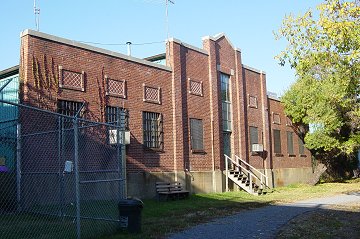 The
Anacostia Community Boathouse Association
is having its second
Youth River Sports Day
on
Saturday, Aug. 23 from 10 am to 2 pm,
at their
boathouses nestled
between the 11th Street Bridges spans (1115 O Street, SE). The 10 member organizations of the ACBA are banding together to help teach kids (and grownups) how to paddle in outrigger canoes and dragon boats and how to row in big training barges--or you can just take a slow tour of the Anacostia River. The events are free, though the ACBA does ask you
to register
so they know how many people are coming. If you want more background on the boathouse operations at O Street, there's now
an interesting history page
on the ACBA web site.
(If you want to receive day-before reminders about this event, or other events in the neighborhood, sign up for the
JDLand Twitter feed
. In addition to reminders and random thoughts, JDLand twitter readers get an added bonus: they knew a few hours ago that I was going to be posting about this today--it's like a sneak preview for the blog.)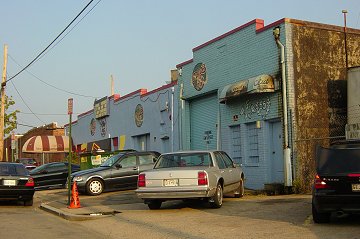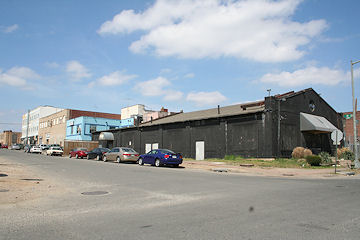 The
Sunday Washington Post magazine has a long story
about the drag queens who for years called the clubs of Near Southeast home. It talks about how things used to be at the clubs, and the difficulties the clubs (and the queens) have had finding a new home since the wave of ballpark development closed places like Club 55 (above left, on what's now the north side of the
Velocity block
) and Ziegfield's (above right, now home to
shallow right field
).
Here's some quotes from a conversation with Carl Rizzi, who long performed at Club 55 as "Mame Dennis": "He is still holding out hope that the Dicksons can find a place to reopen Club 55, so that they will again have a permanent home. He faults the gay community for being caught so flat-footed; they took for granted that they'd always have Southeast, he says. 'I guess we never in our wildest imagination thought anyone would tear that down because it was such an undesirable area.' The city benefits from having a ballpark, says Rizzi, 'and that's all well and good. But [a long-standing gay community] was all torn down and torn apart and scattered, and we had no place to go and no help.' " The online version of the story has
an accompanying video
about Rizzi and the clubs.
A few quick hits to start the day:
* The Nationals have announced that they have donated more than 10,000 tickets to August games at the ballpark to local community and civic groups, as part of MLB's "Commissioner's Initiative for Kids" program. Southwest's King Greenleaf Recreation Center was one of the recipients.