Near Southeast DC: Past News Items - Jun 27, 2011
Go to Full Blog Archive
---
1 Blog Posts
Forest City Announces Restaurants at the Yards; Teeter Confirmed
Jun 27, 2011 8:48 AM
A press release went out this morning with the news that so many residents and office workers have been waiting for: the initial list of restaurants that will be opening at
the Yards
, along with confirmation that Harris Teeter is coming to the building at
401 M Street
.
At the
Foundry Lofts
apartment building currently heading toward completion, there will be a
Potbelly
, plus
Kruba Thai and Sushi
, from the
operators
of Teak Wood Thai and Sushi, Regent Thai, and Galae Thai and Sushi. Both are expected to open in the first quarter of 2012. (Pre-leasing of the residential units is expected to
begin in August
, with move-ins starting in October.)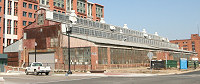 The
Boilermaker Shops
, the 1919-era building nestled between the Foundry Lofts and the US Department of Transportation, will have a number of different offerings:
* There will be
Buzz Bakery
, a full-service bakery, coffee shop, and "dessert lounge," plus an as-yet-unnamed
craft brewery
, both operated by the
Neighborhood Restaurant Group
, the people behind the Evening Star Cafe, Vermilion, Rustico, Tallula, EatBar, Columbia Firehouse, Birch and Barley, and ChurchKey.
*
Austin Grill Express
, a "casual, funky Tex-Mex restaurant drawing on the experience of Austin Grill to deliver a unique menu and environment."
*
BRB
("be right burger").
*
Huey's 24/7 Diner
, a "classic diner experience." (But will it actually be open 24/7?)
It's expected that Huey's, Austin Grill, and BRB will open in the fall of 2012, with the others in "late 2012."
And, at the
401 M Street
residential building (the only one of the three buildings that is 100 percent new construction), a
Harris Teeter
will be coming to the ground floor, which has been rumored for a number of years but is now finally confirmed. The press release says it will open in 2013, though for that to be the case, they need to start work on the building pretty much, um, now.
More as I get it, and you can read the
official press release
for additional details. For more on each project, see my
Foundry Lofts
,
Boilermaker Shops
,
401 M
, and main
Yards
project pages, or see the
official Yards web site
. Especially don't miss the photos from the interior of the
Boilermaker Shops
, which is a space very much unlike anything else in DC.
UPDATE, June 2012:
Because this post is linked to in so many places, it's necessary to update that in late June 2012 it was revealed that Austin Grill Express and BRB would not be coming to the Boilermaker Shops after all. However, Willie's Brew and Que sportsbar had been announced as another tenant in
late 2011
.