From JPI, in a press release announcing
the official opening
of the Jefferson at Capitol Yards (always known here as
70 I Street
), an invitation to a "
free block party
for prospective residents on
Saturday, June 28th, from 4:00 p.m
. until game time at the nearby
Washington Nationals ballpark
. Visitors will enjoy barbeque, beverages, and tours of newly opened model apartments and amenity spaces."
While chowing down you can learn about the "resort-style swimming pool, rooftop deck, high-tech business center with private workstations and Internet access, executive conference center, movie theater with stadium seating, available bicycle storage and personal storage space, and 24-hour fitness center with cardio equipment, individual TVs, circuit training and free weights" as well as "a large pub room with plasma TVs, billiards, shuffleboard, foosball, darts, poker, Ipod docking station, and video gaming stations."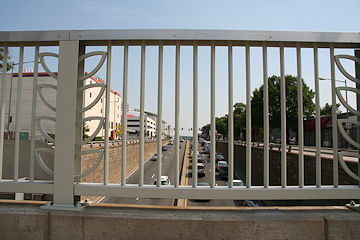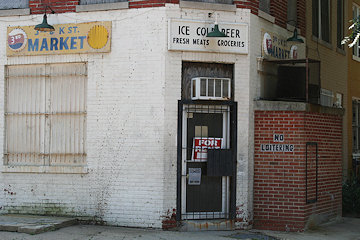 * DDOT told me these were coming a long time ago, and a reader whose e-mail I've lost gave me a heads up a few weeks back, but now I've finally visited for myself to see that the
ugly cyclone fences
on the South Capitol and M overpass have been
replaced with pretty gray-painted ironwork
.
* You have to look kind of closely, but construction has indeed started at
Capitol Quarter
, with pretty new curbs being installed on the south side of L Street between Fourth and Fifth. You can see them if you squint at the photos on my
Capitol Quarter Phase I page
.
* The owner of the
Third and K Market
at, um, Third and K must be keeping track of what's going on nearby, because there's now
a For Rent sign tucked in the door
. (Alas, all the info sheets were gone when I got there.) If you've ever dreamed of running a corner market, here's your chance. The market's been closed since about 2006.
UPDATE:
Speaking of 20 M, GlobeSt.com is reporting (tucked
in a piece on LEED Gold certification
for 1100 New York Avenue) that
several leasing deals are pending for 20 M
. So perhaps that's why Wachovia has decided to start moving forward.
I also did some updating of the tabs with the lists of projects--if you don't realize the tabs are even there (look just above the map for "Residential/Office/Retail/Hotel"), take some time during this lazy summer to click on them and be stunned and amazed by the easy access to project information....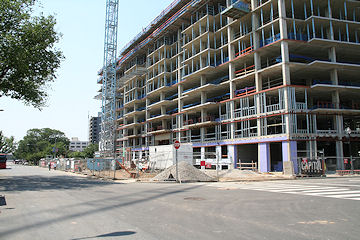 Three weeks is way too long to go between updates when a building skeleton is on its way up, so seeing
909 New Jersey
now starting its 11th story is a bit of a shock. The latest photos on
the project page
capture the building from all angles (and show that the facing work is already starting on the lower floors), and the
Expanded Gallery
includes photos from farther away showing the impact 909's rise is having on the Near Southeast skyline. This 237-unit rental building will have 6,000 square feet of ground-floor retail space, and is expected to be completed next year.
And, on the pages for both
909 NJ page
and its siblings
70 and 100 I
, I've now added a few more "old" photos of the lots before they were bought and cleared. I've been so focused on matching before-and-afters, which is simplest when done standing at intersections, that I've forgotten how many mid-block photos I used to take, especially waaaaaaaaay back during 2003 and 2004 (heh). As always, let the

icon be your guide for the latest additions to the project pages, and use the

icon wherever you see it to view all photos in the archive from a certain vantage point.