From DDOT
: "The District Department of Transportation (DDOT) will be conducting operational testing of the swing span of the
Frederick Douglass Memorial Bridge
, a.k.a. South Capitol Street Bridge this weekend beginning on Friday, May 16th at 10pm. To conduct a full operational test of the swing span, and ensure the safety of motorists and workers, the bridge must be closed during the testing activity. The initial closure is scheduled for
Friday evening, May 16th from 10pm - 5am, weather permitting
. If all results return positive no further closures will be necessary. The
rain date is scheduled for Saturday from 10pm - 5am
. Motorists will be detoured to the 11th Street bridges. Variable Message Signs will be posted along the north and south bound routes leading to the bridge to alert drivers to alternate routes."
From DDOT
: "The Barracks Row Main Street in Washington, DC seeks an artist or artist team to design, create and install an urban mural for the SE Freeway overpass that divides the south end of
8th Street SE
, now known as Barracks Row. The goal of this project is to create a unique landmark that expresses the character of the surrounding neighborhood. The large mural will help draw residents and non-residents for repeated viewings to the area and reinforce a sense of place within this community."
Deadline is June 13
, with the schedule calling for the work to be completed by early 2009. see
the announcement for more details
. The money is coming from federal highway funds, but the project itself is being run by the
Barracks Row
folks along with DDOT.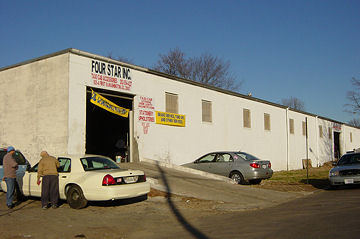 A raze permit has been filed for the now-vacant white one-story garage on the northwest corner of First and K, where DRI Development is planning to build the first phase of its three-building 825,000-sq-ft
Square 696
office/retail project, a 300,000-sq-ft building that is expected to begin construction later this year. This garage was, until the end of February, home to both Four Star Cab and Merritt Cab, both of which relocated when their leases expired.
A peek into
CoStar
(link may not work right, and CoStar doesn't allow direct links to listings for plebes like me) shows lease listings for both 50 K Street and 90 K Street, each also labeled "
The Plaza on K
," which I imagine also is referencing the 8,000-sq-ft public plaza planned for K Street at First Street. 90 K appears to be the first building planned for the site, listed at 300,000 total square feet and 12 stories, with a "year built" date of 2010. Its sibling 50 K is listed at 285,000 sq ft and 12 stories, with no "built" date (though both listings have an April 2010 occupancy date in their detail pages). See my
Square 696 page
for a rendering of the project, plus a site map and photos of the block in its current incarnation.