Near Southeast DC: Past News Items
801va
Go to Full Blog Archive
---
14 Blog Posts Since 2003
BZA Approves Revised 801 Virginia Design
Nov 25, 2008 11:06 PM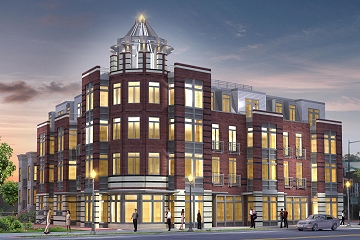 This afternoon the city's
Board of Zoning Adjustment
approved unanimously two requested variances that will allow 801 Virginia Avenue to go forward as a 19,000-sq-ft office building with 3,000 feet of ground-floor retail. I admit to listening to the webcast with only about half an ear, but the bulk of the discussion seemed to be centered around the applicant's request to only have 17 underground parking spaces instead of the required 30 (17 is still four more than were allotted in the original condo-building design). As I wrote about
a few weeks back
, the developers say that groundwater levels and potential soil contamination issues would make it prohibitively expensive to dig two additional levels of parking (and having to have the garage entrance on L Street apparently doesn't help, either).
The 17 spaces will all be assigned to the office tenants, so there will be no parking for retail customers. (There was some discussion of creating overflow parking if necessary at 816 Potomac Avenue, another property owned by the same developer.) The applicant's traffic consultant also laid out the proximity of the site to Metro subway stations and bus lines, and with the request having the full support of the Office of Planning, ANC 6B, and the Capitol Hill Restoration Society, the board voted to approve the variances.
No word on when the project might get underway.
801 Virginia's Switch from Condo to Office
Oct 8, 2008 6:30 PM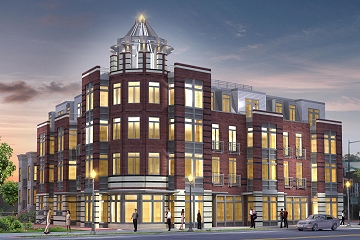 At Monday night's
ANC 6B
Planning and Zoning Committee meeting, there was a presentation about the new plans for the
southeast corner of Eighth Street and Virginia Avenue
, where a few years ago a small group of investors planned a four-story condo building dubbed "The Admiral." As
I mentioned a few days back
, the owners are now wanting to switch to an office building that would still have ground floor retail, and are going in front of the Board of Zoning Adjustment
on Nov. 25
for some items that need to be addressed as part of this change.
According to the presentation, the new office building would use the same design as the condo building, with a few tweaks (they appear to be wanting to get rid of the turret in
the original design
). But because of the switch to office space, the number of parking spaces required goes up to 30, far more than the 13 in the condo design. According to the architects, groundwater and possible soil contamination issues (since a gas station used to be located there) would make digging two extra levels of parking prohibitively expensive, and so they are seeking relief from the 30-space requirement. (And, for those wondering, the garage entrance would be on L Street, not Eighth or Virginia).
Commissioner David Garrison asked about the ownership of the lot (which has been on the market for nearly a year) and about the property's tax status, given that it was
listed on the city's tax sale rolls
last month. He was told that the lot has not been sold but that investment partnerships are being shuffled and sold, which should be completed soon, and that the delinquent taxes are to have been taken care of; Garrison asked for some sort of documentation on both before the ANC votes (presumably on Oct. 14) on whether or not to support the zoning exception requests.
801 Virginia Office Bldg Plans Coming to ANC 6B
Oct 3, 2008 4:33 PM
I
wrote a few days back
about the appearance of a zoning variance request for a new office building at
801 Virginia Avenue
, site of the once-planned Admiral condo project that fell by the wayside last year. The Board of Zoning Adjustment will be taking it up
on Nov. 25
, and I now see this request on the
ANC 6B
docket, first at its Planning and Zoning Committee meeting on Oct. 7, and then in front of the
full ANC on Oct. 14
. Both meetings are at 7 pm at the Old Naval Hospital, 921 Pennsylvania Ave., SE. (As always, all these dates are on my nifty
Near Southeast Events Calendar
, brought to you by Google Calendar with all sorts of bells and whistles to either subscribe to an
RSS feed
of calendar updates or
add the events to your own Google Calendar
or other
iCal
-enabled offering.)
Something Happening at 801 Virginia?
Sep 26, 2008 1:30 PM
When last we left the plot of land on the
southeast corner
of Eighth Street and Virginia Avenue, we had learned that the owners (known as "801 Virginia Avenue LLC") had
landed on the city's tax sale list
, a few months after they
put the site up for sale
, with their plans for "The Admiral" condo-building-with-ground-floor-retail appearing to have collapsed. There's no indication in the land records that the lot has sold, and nothing on the
Office of Tax Revenue
web site to indicate what might have happened with the tax sale, but now appearing on the
agenda for the Nov. 25 meeting
of the city's Board of Zoning Adjustment is an application by "801 Virginia Ave LLC by Phillips Ocilla Davis Development LLC" for variances "to allow the construction of a new commercial office building with ground floor retail [...] at premises 801 Virginia Avenue, S.E." Hmmmm.....
Neighborhood Properties Heading to Tax Auction
Aug 22, 2008 9:19 AM
(Thanks to reader K. for the tip.) With the real estate market and general economy in their current states, it's not surprising that quite a few properties in the city are heading to tax sales, which is what happens when property taxes have gone unpaid. The
2008 DC Real Property Tax Sale
is scheduled to begin on September 17, and there are some notable Near Southeast addresses:
*
801 Virginia Avenue
, where "the Admiral" condo building was planned until the investors put the site up for sale last year. Its tax bill is listed at nearly $78,000.
*
1010 Seventh Street
(the empty lot across from the Marine Barracks), where a small developer had been
planning a 12-unit condo building
and where the tax bill is just over $30,000. (
UPDATED
to correct address, though the three parcels that make up the lot are owned by the 1012 Seventh Street Southeast LLC.)
*
1026 Third Street
, the brown multi-unit building on the corner of Third and L that's been boarded up and for sale
since at least 2003
, though the unpaid tax bill is only $417. (Maybe if we all look under our sofa cushions....)
But, as the notice states: "Purchasers must be aware that additional liabilities, which are not reflected in the total amount" may be due, including liens previously sold to a third party. So don't pull out your checkbook unless you know what you're doing.
8th and Potomac Properties for Sale; Admiral Dying?
Jan 22, 2008 10:35 AM
The buildings along Potomac Avenue between Eighth and Ninth streets--the white corner building that houses Quizno's (810 Potomac) and the
boarded-up brown brick apartment building
next door at Ninth and Potomac--
are now up for sale
(asking price not listed). The current owners, ICP Partners, purchased the properties in February 2006 for $9 million; they're currently assessed at around $6.5 million. These owners are part of the group that has been trying to develop
801 Virginia Avenue
since 2005--and I imagine it's a sign of what might be happening with that project that the splashy
AdmiralCondo.com
web site that they launched
back in August
is now gone. Perhaps someone with better access to commercial property listings than I have might want to peek and see if the 801 Virginia lot (0929 0007) is up for sale as well?